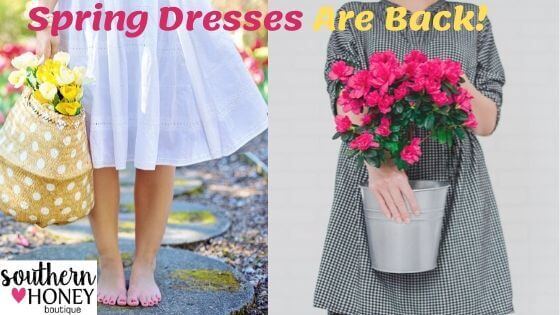 Spring Dresses is back online at Texas Online Boutiques.
Hello Spring! 
Welcoming the chirping of birds & fresh air, it's time to say bye-bye to your winter things & outfits because the spring is here already! 
It is time to look forward & gear up for filling your wardrobe with some cool clothes that will try & keep you away from the scorching heat during the summers. With spring comes days that are longer than the nights & not to mention the sun that shines brighter on us wants us to get in some attire that could offer us some comfort & chill. But, with all the beauty the season comes with, it also comes along with a lot of confusion as to what to wear & what to avoid. 
Well, to clear all your doubts & difficulties to decide upon the right choice of dresses this season "Southern Honey Boutique" from Texas offers you the best of the best spring dress collection online that would make you feel nothing less than refreshed at the end of the day & help you beat the heat & rock the spring. So, let's get that spring on with some comfy yet some trendy dresses & add on some new spring stuff to our closet.
Spring is calling dress
What better than adding more whites to your collection in spring? This floral white knee-length dress gives you a comfy fit at the bust with spaghetti straps & the beautiful flower print just makes you feel more energized.
Spring forward dress
printed knee-length in shades of orange & white is all you need in spring. To make you feel more relaxed this season, the spaghetti straps & the loose fit of the dress adds to your comfort value.
Lacy maxi dress
This all-white ensemble is one of a kind to make you feel more of a spring lady. It's one strappy tunic top & a slit at the bottom of the dress on both sides adds to the oomph you need in warmer seasons. The dress comes in two beautiful colours for you one in white & another in blush.
The femme dress
Floral print dresses look so feminine & scream spring. With a deep V-neckline & loose straps, the floor-length maxi dress speaks only of comfort. And, the flowery print puts in a wonderful mood.
The bell dress
yellow, a beautiful fellow! Adding more colours to your spring, this mustard colour long dress with embroidered flower work & buttons at the top with elastic just around the waist to give you that perfect fit is something that you would not want to miss this spring. And, the short loose sleeves add up to the look of the dress beautifully.
The shantel dress

love loose dresses, especially during the spring. And, this white dress with lovely flowery prints proves to be a modern silhouette giving a feminine look with ruffled hem. The long sleeves provide a chic finish to the look.
The bonita dress
spaghetti straps casual dress in white is quite soothing to eyes, imagine the elegance it will offer after wearing it. With a lining of coloured design that balances well with the white dress, it also offers a loose fit at the bust & makes you feel more stylish.
The gracie twist dress
dress with a pinch of colours like yellow, blue, white, sky blue & orange does no harm when you pair it with long earrings or a loose neckpiece to go with. This multi-coloured like a colourful pastry dress with deep neckline & single straps add to the style & grace you need in spring.
Chic & fab dress
sweet diminutive dress in white & grey with vertical lining comes with a short V neckline & buttons. The tiny frills from shoulders to waistline give you a smart look for the springs.
Spring is already here you beautiful ladies, what are you'll waiting for? 
Add up some cool aesthetics to your wardrobe with ethereal, fashionable & fab spring dresses that bring along with them not just lighter shades but also a splash of colour in life just like the season does, changing from darkness to light.