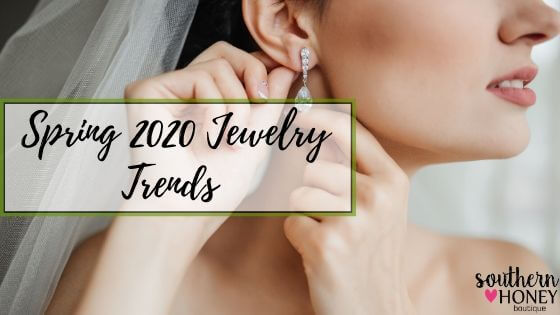 Spring 2020 Jewelry Trends to Try Out Now
It's time to say goodbye to 2020 winters. Coming up is the queen of seasons, the spring. 
Nature displays its beauty to the fullest. Similar is the fashion trend of Spring 2020 at Southern honey boutique. Using the elements of nature in its purest form, the designers at southern honey have come up with elegant accessories to add to the beauty of gorgeous attires. 
The use of turquoise stones, beads, natural wild skins and threads in the spring accessories of 2020 are a perfect combination to give you that earthly look. Another trend is seen in the size and shape of the jewellery. 
Let us check out some of the alluring pieces at an online jewellery boutique of southern honey.

Mended from the most expensive turquoise found in America, this necklace adds beauty to any traditional, party-wear, or semi-formal dress. 
This 20" long neckpiece exclusively made out of finely polished red nuggets is good to go with any dress. Wear it as a layering choker, a free-falling neckpiece or a layered wristband; it gives a stunning look in any of the styles!
This piece of jewellery is a simple long chain. The pendant adds elegance to the delicacy of the string. You have a choice of cream or brown pendant. The artistic leaf-shaped design of the pendant embosses it over any dress.
Available with pendants made from natural snake and leopard skin, these neckpieces are 19" long. The pendant size is also significant making them one of the most beautiful free falling necklaces made out of natural animal skin.
Are you fond of long neckpieces entirely made out of natural stone nuggets? We have an exclusive range of 19" long ivory and simple turquoise necklaces. Pick up a layering piece of small or big nuggets, wear it and feel the elegance gifted by nature!  
Pair up your clothes with bead jewellery as beads go well with any attire. Visit our online jewellery boutique, and you will get a range of bead neckpieces differing in colours and size of the beads. You can also find turquoise beads at our store. History is evident that nothing can beat the beauty of pearls and beads. So, it is always good to have them in your jewellery box.
Delicacy and simplicity have always been at the top in the race of fashion. And representing this evergreen trend of fashion, we have an exclusive neckpiece with a delicate chain and a moon-shaped pendant that beautifies your neck in a simple yet stunning manner.
This spring goes with the trend of loops with threads. These oval loops are wrapped finely with threads are an unusual combination to wear over any attire. Moreover, you can break the pair and wear them single or with a similar mismatching earring. It goes right in either way.
9. 
Party Favor Earrings
Be the attention of everyone at the party with this charming design of earrings. They are oversized earrings with well-knitted stones at the centre surrounded by multi-coloured threads. Don't let yourself miss this exclusive design in Spring 2020.  
How can you miss tassel in your jewellery box? These well-knitted earrings with varied designs and colours of threads go well with any piece of attire. The knots and beaded studs with long thread extensions will add to your charm on any occasion. 
Decorate your wrists with natural wild skin designs! This exclusive range of cuffs with numerous prints and colours adds to the charm of your wrist. It is a single piece of jewellery that goes well with any party or semi-formal looks.
Bring an end to your confusion of finding wrist jewellery that matches your clothes! These colour block bracelets have multiple colour bands that pair them up with a variety of attires having different colours.
Our Southern honey's online jewellery boutique has ample varieties of accessories that add to the glory of your attires.  
This spring collection represents the current trend of accessories made out of natural elements and artistic sculpting. Pick up any jewelry right from well-knitted threads to artistically arranged beads, pearls and stones at alluring prices and upgrade your jewellery box with an exclusive range of accessories trending in Spring 2020.