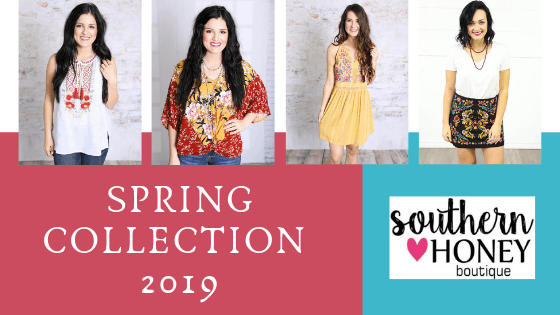 Southern Honey's Trendy Online Boutiques Facilitates Spring Collection 2019
"Spring is nature's way of saying, 'Let's party!" said Robin Williams. We cannot agree more!
Spring is the season of love, joy and harmony. Those breezy days and romantic getaways define what this season is all about. This is the most comfortable season for everyone alike. Isn't it? So, why not get those colorful and trendy women's clothes that match your breezy mood-from our Trendy Online Boutiques?
That flowery aura, cooler sunglass looks and cosy weather…Wow! Spring is the synonymous to fun and prosperity. Our hand-picked SPRING COLLECTION 2019 would leave you all nostalgic this season. Let's have a look at the top five Outrageous Spring Wears you can buy from our Women's Clothing Boutique that you shouldn't miss.
1. Spring Tea Time Top
What else could blend perfectly with this season other than a teapot? With that in mind, we have picked up this choice of dress to help you get that classy touch this spring. Add a tinge of elegance and gracefulness to your looks. This design is available in all sizes and is right match for many occasions. Being true to size, these trendy women's tops can fit anyone.
2. Spring Luncheon Top
This loosely fit spring luncheon top is everyone's go-to choice. These women's designer tops are the best ever alternative for any casual occasion during this spring season. It would perfectly complement with your contrasting color capris or jeans. The best part is that you don't need to burn a big hole in your pocket to buy it.
3. The Golden Bridge Dress

The golden bridge dress is going to ensemble you in spring days pretty well. With this dress, you will be able to set the floor on fire. It will be much fun to flaunt your look everytime you wear it. This fancy women dresses designs are well suitable for all the age groups. Buy the best dresses from our online dress boutiques that suits best for your event.  
4. Time To Spice It Up With Floral Skirt
This spring season, it is time to spice up your looks with this classic cotton floral skirts. These women's designer shorts are a total winner when it comes to visiting your friends and enjoying  those kitty parties during spring. Add glamorous look by pairing it with perfect pair of light colored bellies.
5. Spring Fling Cardigan
This type of knitted garment is favorite of many. To cater to your convenience and preferences, we have chosen spring fling cardigan in order to make you feel cool and comfortable. It will groom your inner soul with the chill air that would kiss your face. Pick this design up if you are in need of one such luxurious women's cardigans this season. Upgrade your wardrobe with this classy Cardigan available in vibrant colors.
The best way to enthrall your mind, body, heart and soul is by choosing to wear the right set of spring clothes. This would help you to remain comfy and enjoy this season to the core! Looking forward to shopping at a glam, Trendy Online Boutiques? If yes, do not look further.
At Southern Honey, we offer the best ever spring choice of ethnic wear and clothes which you would fall in love with at first sight.
So, why wait? Spring is here! Welcome the season with those pretty collections of tees, tops, tunics, skirts, skinny bottoms, pants, cardigans and dresses at Southern honey! We have those perfect choice of spring wears that match every sizes, be it small, medium or plus. The best part is that it is all available at extremely affordable prices. Contact our team to know more about our collection of Trendy Women's Clothes.