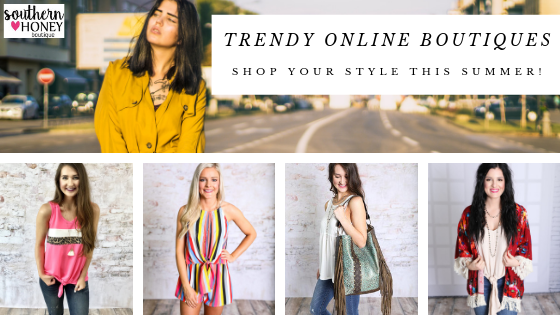 Shop Your Style from Southern Honey's Trendy Online Boutiques in the USA
The right balance between comfort and style is always a constant battle we hope to win. Add to it the changing styles during every season; our wardrobe needs to be kept ready to make us look fashionable every single day. Bringing to you the best styles of all season from one of the Trendy Online Boutiques in the US, Southern Honey, which has an incredible collection of fashionable women's wear that suits anyone's style.
Blazing Neon for Subtle Shine Tank Tops
When we say 'neon', most of us imagine a big, bold and blinding colour that makes hard to miss in the crowds. Of course, we choose neon-coloured dresses to stand out from the crowd, but what many don't know is that you can create a subtle look with neon too. By teaming it up with the right accessories, it is entirely possible to create a unique, under-the-radar look with neon.
Have a look at this simple neon tank top from Southern Honey and you will know what we are talking about.
You might love checking out a bunch of other trendy tank tops that we have introduced this summer. 
Bring Back the Ruffles
One of the rare trends that are back in 2019 is the ruffles and it is here to stay. Ruffles are one of the 'up and coming' current fashion trends and at Southern Honey, you have abundant options to choose from! The best part about ruffles is that you can have tops and dresses with ruffles in the sleeves, on the neckline, at the bottom and this can be worn as office wear, casual wear or party wear. 
You can team up ruffles tops with a long neck-piece for your office just like this layered ruffle top with a pair of jeans for a day out with your friends.
Chic Rompers for Hot Summers
There are many varieties of summer dresses to choose from but nothing comes close to comfort and style as a romper. This popular trend has taken a permanent place in many wardrobes due to the bright colours and elegant designs it comes with; not to mention the uncomplicated way to wash and maintain it. 
At our trendy online boutiques of Southern Honey, we have a trendy rompers for you to choose from based on your preferences and style sense.
Fringes All the Way
If there is one style statement which you can incorporate easily into your everyday wear is fringes. You can have fringes at the bottom of the top, on your sleeves and the mid-section. You can have fringes on your jeans, shoes, handbags, shrugs, earrings, bracelets and what not! 
If you want a simple fringe top to team up with your skirts, jeans, blazers and shorts, then trendy women's tops with fringes is the best! If you want to widen your dressing style, then pick up a fringe bag that can go with most of your dresses or a kimonos for a bright addition.
Are you a leather bag lover, then you have reached the right destination. Check the spectacular collection in our stores for women's leather bags. They are such promising leather bags that can be complemented with any looks.
At Southern Honey, we have a wide variety of trendy women's tops from the latest closet. So don't wait! Have your pick from one of the best trendy online boutiques in the USA now!