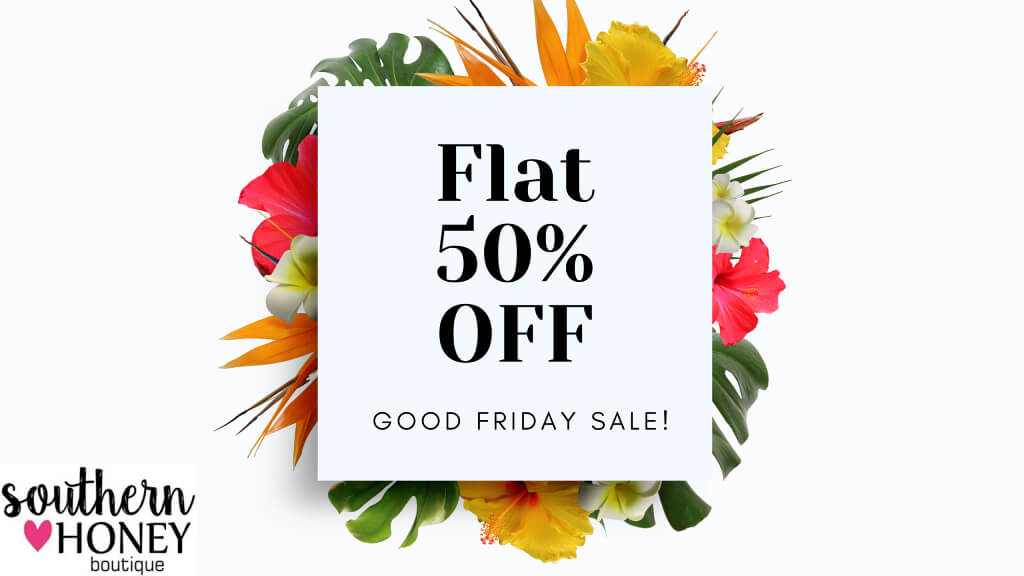 Shop the Good Friday SALE! Flat 50% OFF
Women wardrobes are generally overflowing with clothes, yet there is always a dearth when it comes to picking what to wear. Every occasion demands its special clothing and Good Friday is no exception. Keeping our religious spirits and faith in Jesus alive, we at Southern Honey one of the finest Texas online boutiques are back this year with a promise to let you buy whatever you want without being heavy on your pockets with our much-awaited sale of over 300 items to pick from.
So you are in the right place! Welcome to Southern boutiques. It's that time of the year that you can shop till you drop with the best savings you can grab this season.
Get up to 50% off on your purchase and add abundant new varieties to your closet. Let's get started!
Dear John Avenue Sloane Jean – Be it summer, spring or winter, jeans has and will be the top favourite choice for casuals. This perfect boot cut, 95% cotton dark blue coloured denim has trendy shredded designs on the bottoms and right knee. Do you think you wish to add this one with almost 35% off to your cart?
Dear John Blaire Cropped Jean
Style and comfort characterize this bottom wears speciality. Just slightly above the ankle, the faded blue cropped straight fit jeans with small rips near the thighs would highlight every curve of your petite body and can be worn with a jacket to get that funky look.
Dear John Mykonos Bootcut Jean
Dark blue boot cuts with straight pockets are trending style. There is an almost $31 saving that you can avail on this smart durable apparel. One of the most trending varieties  at Texas boutiques is out on a sale.
Dear John Joyrich Frayed Hem Skinny Runyon
From school goers to college youth, frayed skin fit jeans are turning out to be a popular choice. We assure that it will not cost you an arm n leg as you will be paying a meagre $44.99 as the discounted rates at Texas boutiques for this dashing casual.
This black deep V necked cardigan with a printed black knee-length shrug is just the perfect look for party goers to enhance their dashing appeal. It's available at half its original price, what more could be the wish for a young girl to steal all the attention.
The Sharon Sweater
Winters may be far away, but this offer is absolutely alluring. With this loose fit knitwear pullover, you can not only feel warm and cosy but also make a style statement of your own. One of the most discounted products, at just $26.50 this sober sweater is a must for your closet.
The Knit Leopard Top
If you adore the animal prints, these black full-sleeves, round-necked top gives you a wild aura. So pick up this one from Texas boutiques just for a $15.50 sale price.
As the name suggests, for those who wear their heart on their sleeves, these comfy and stylish sneakers are just mind-blowing. To top it all, the rates would fascinate you the buy them right away. They are available in two colour options: black and taupe.
The Empire Top
To match the colour of green olives, this olive peplum top gives you the majestic appeal to adorn with jeans or skirts. With a super reasonable sale pricing of $23.0, Texas boutique gives you a chance to be the first one to pick on this classic piece.
Forever Pink Tunic
Pink has and will forever be the most liked girl colour. Isn't it? With three varying shades of pink, these full sleeves, closed round necked tunic is mesmerizingly feminine.
Perfect Me In Spot Dress
A perfect choice for the high school sweethearts. This short dress would make you look smart and sweet, letting you flaunt your long slim legs for onlookers to admire.
Dream Night Dress
This classy nightwear has spaghetti straps with a deep V neckline bodice and aa attached flair striped ankle-length skirt. You sure would feel soothingly comfy in your cosy bed with this phenomenal nightwear.
Lani Off Shoulder Sweater
This off-shoulder, the violet bell-sleeved sweater is mysteriously eye-catching. despite its attractive colour and style, this one is just for you at $26.50 at our store.
Colder Weather Striped Cardigan
The bright and wacky colours of this cardigan would make you feel cheerful and fresh in the gloomy winter. So why not try this one to boost your mood!
Conclusion - There may be thousands of online boutiques in the USA, but what differentiates us from the rest is that we believe in establishing a lifelong relationship with you. So give us this chance to build our rapport with you as this is the one-stop for bargain hunting!