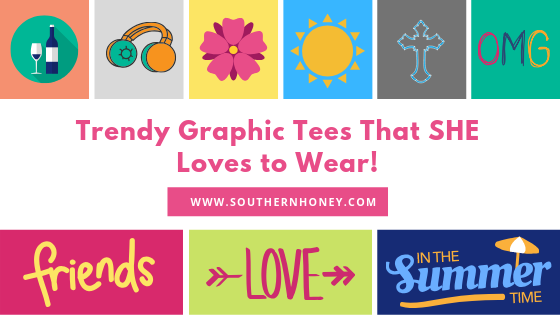 Seize Trendy Graphic Tees That SHE Loves to Wear!!
Graphic tees have long been one of the trendiest pieces of clothing one can own. Graphic tees allow us to express yourselves in a way we want; be it about the beliefs we have, our life goals or any funny messages. 
Southern Honey has an extensive collection of Trendy Graphic Tees for all kinds of women, including teenagers, moms and office goers. So let's dive into all that collection of graphic tees you can add to your wardrobe under a budget.
Simplistic, Symbolic Graphic Tees
Most graphic tees essentially have quotes or some words written on it. However, if you are the one to believe that a picture is worth more than a thousand words, then these symbolic graphic tees are the best option.
There are several creative designs in trendy graphic tees which you can choose according to your style. If you want to take it a notch down, then go for a soft-coloured graphic tee with simple white arrows. Else, pick something like a big gray cross on a light blue colored tee for a bold statement. 
Sarcastic Graphic Tees 
No collection of trendy graphic tees is complete without a sarcastic t-shirt. There are many kinds of funny graphic tees that makes one stop, look and laugh. If you are the one who loves to gain attention through some bold yet funny statement, then make sure to have a couple of these graphic tees.
There are some cool yet bold graphic tee statements like 'I love you more than wine but please don't make me prove it' and 'You say tomato. I say Bloody Mary' on Southern Honey. You will definitely find something to your style and liking on the trendy graphic tees collection of Southern Honey.
Old Yet Gold Vintage Graphic Tees
The vintage trends in clothing come back again and again every season and the graphic tee is no different. At Southern Honey, we have a whole new collection of vintage graphic tees just for you!
These graphic tees can be a combination of vintage artwork and words.
Feminine, Floral Graphic Tees
If you like to keep it on the down low, but still want to experiment with your hand at a graphic tee, then floral graphic tees are the way to go! Many wear graphic tees in the summer season and what screams summer more than a floral-themed top! 
For a simple and pretty starts, go for the bloom graphic tee with colorful flowers on a black background.Alternatively, the 'I just wanna soak up the sun' graphic tee with a single, bright yellow flower in the middle is the perfect attire to rock this summer when paired with cute, little blue shorts and carefree loafers or flip-flops.
To explore all of these fantastic trendy graphic tees or to find out more exciting and unique designs of tees, visit our Trendy Online Boutiques store. 
If you happen to live in or nearby to Stephenville or Hobbs, then you are in for a visual treat.
Visit our local store
 at these locations and shop your favorite graphic tees!