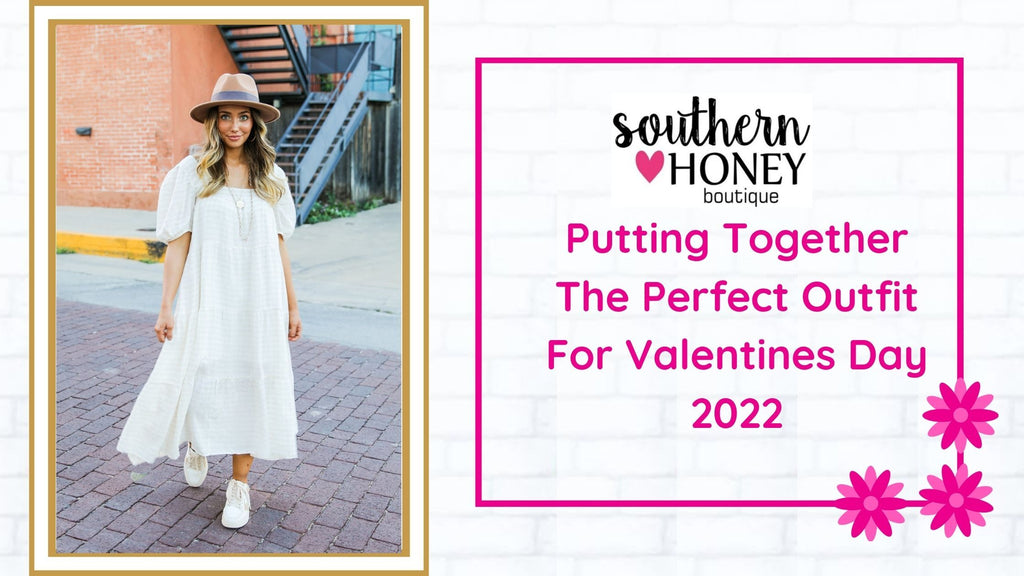 Putting Together The Perfect Outfit For Valentines Day 2022
It's February which means the most romantic day of the year is right around the corner!
Valentine's Day is the perfect day to spend meaningful time with your partner. Whether you're in a long-term relationship, a newly blossoming romance, or a first date, the options are endless. You can have a movie marathon, go out for a classy dinner or take a romantic stroll in the park. Wherever the night takes you, you have to make sure you're looking and feeling your absolute best!
Here at Southern Honey Boutique, we've put together some adorable outfit ideas to make sure you're feeling fabulous this year. Our Stephenville boutiques offer a wide variety of women's clothing that is sure to fit your style and budget! If you need a little extra inspiration for your valentine's date-night outfit, head to our website and check out some looks from our latest collection.
Continue reading to find the perfect look for Valentine's Day!
Valentine's Day Outfit Ideas for Different Occasions
1. Romantic Candlelight Dinner
There's no better way to spend your Valentine's Day than by having a romantic candlelit dinner with your loved one. These dinners are romantic, intimate, and a great way to show your significant other how much you care about them! However, you definitely need an elegant and classy dress for this occasion. We recommend going in a classic red dress. This look is not only chic but flattering and perfect for the holiday. Our Square Neck Dress goes perfectly with the Must Have Charm Necklace. You can add your favorite heels to create a jaw-dropping look that is sure to make you feel confident.
To purchase these pieces, head to our website or visit our Boutique in Hobbs, NM! We have a wide variety of women's clothing that will fit perfectly in your closet. So start shopping today!
2. Movie Night
If you and your significant other decide on a laid-back night in, you won't have to dress to the nines. However, you will want something cute and cozy to binge-watch all of your favorite Hallmark movies in! Luckily, we have the perfect outfit for you at Southern Honey Boutique. Our Tiered Pleated Top is not only loose-fitting but extremely comfortable! You can pair this top with either a comfy pair of leggings or chic denim shorts. This look is absolutely fabulous and allows you to look amazing with little to no effort. So get your popcorn, grab your favorite blanket and get ready for a great movie night!
3. Picnic
Is there any better way to celebrate Valentine's Day than with a romantic picnic? Breath-taking views, great conversation, and fabulous scenery are all of the things you'll be able to experience while picnicking at the destination of your choice. So if you're struggling to decide on the perfect outfit, there's no need to worry. Southern Honey has you covered! Our Kandice Dress is the perfect mix of chic and fabulous. It's comfortable, loose-fitting, and great for an afternoon or evening in the park. You can pair this dress with a pair of our Sarah White Sandals to create an adorable look that's sure to impress.
Don't let this dress slip out of your hands! You can either head to our fabulous boutique in Stephenville, TX today or head to our website and get it shipped straight to your door.
4. Surprise Date
We love surprises! But we also love planning to look fabulous for any event we attend. If your partner has decided to plan a surprise date night for you and you're not entirely sure where you're going, there are a few things you can do! First, we suggest you check the weather to stay warm and prepared. Secondly, always go with a classic look! Our gorgeous Samantha Midi Dress is perfect for practically any occasion. It's chic, comfortable, and best of all, it's so affordable!  We suggest pairing it with our Ava Jacket to make sure you're ready for any cold weather ahead. This dress is such a great piece to have in your closet because you can wear it for so many other occasions. If you're looking for a fitted look, all you have to do is add a trendy belt, and you're ready to roll!
5. Coffee Date
Are you planning to have a low-key coffee date with your partner? We have you covered! Look effortlessly chic in our Savanna Ruffle Dress. It comes in a soft pastel blue that looks absolutely adorable for any occasion. You can purchase this dress from our women's Boutique or head to our online retail store to get it shipped straight to your door!
6. Sporty Date
Are you and your partner sports fans? Does your date night include competitive outdoor games? Of course, you're going to need to wear something comfortable, but that doesn't mean you have to sacrifice looking fabulous! You can layer our Winnie Plaid Top with the Jersey Stitch Top to create an effortlessly chic look! Pair the layering with our Heidi Skinny Jeans, and you're good to go!
Our Conclusion
Whatever you may have planned for Valentine's Day, you deserve to look and feel your absolute best! We hope that our style ideas have inspired you to create the perfect look for your date night. Head to our trendy boutique in Stephenville, TX, or Hobbs, NM, to shop our latest collections! If you prefer to shop online, head to our website and get your purchase shipped directly to your door.
Southern Honey Boutique is your one-stop fashion destination for beautiful and premium quality clothing with an added southern touch. Visit our website today to check out all of the trendy clothing available! You are sure to find something that perfectly suits your style and budget.