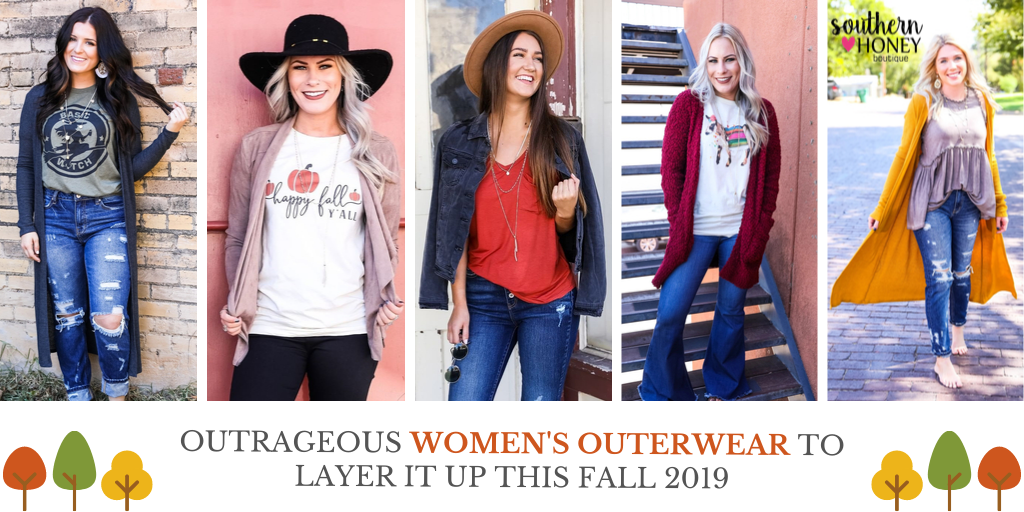 Outrageous Women's Outerwear To Layer it Up This Fall 2019
We are in 2019! women's outerwear is getting bolder, hotter and sexier. From Mary Jane in 1920s to peasant blouses in 1970s to Neo-gothic in 2019, all they need is the right mix of style, fashion, swag and glam to match up with the warm day. At Southern Honey, we are well-known for the latest trends that we foster in our design. The Women's Outerwear could be of any size or shape, but it has to boost the comfort level, rather than let them squirm with discomfort.
Every woman is unique, be it her body style or the way she dresses up. She might not prefer the same style chosen by her best friend. To let every woman adore herself the way she loves, we, at Southern Honey, have amazing collection to groom her wardrobe like never before!
Have you ever thought about women's outerwear that could let you jive higher in the sky? We have it here! We are those fashionistas who value your time, taste and choice. Choose us if you are looking out for stunning dresses in 2019!
Are you in love with those Women's Long Cardigans, which would stick with you on every occasion? If yes, Southern Boutiques have cute cardigans that could be your go-to wear when you have a date or a friend's get together. Dive into the boutique cardigans if you wish to stay cozy throughout the day, with a cup of coffee or tea!
Women's fashion & trendy jackets are still capturing the dressing preference of many! It might seem nostalgic with that cowboy era. Wearing jackets is an evergreen trend that would never fade. Wear them to get your evenings to go smoothly with a cup of wine! This could help you to win the hearts of your loved one during that musical night-out or a trekking trip.
Warm Vests are specially designed to keep your core warm and your arms free. They are classic yet modern outerwear that is perfect layer to seal in the warmth. Whether you are out on a date, on the streets, on the mountain, or in the ice, our Warm Vests will keep you covered and protected.
Women' sheery, laced, printed, floral Kimonos are favorite of many, who loves anything out of the mundane choices scattered everywhere in front of them. These cool women's kimonos are  for everyone who loves to try something new, gorgeous and beautiful, unlike that regular wear which they choose occasionally.
Do you love to beautify yourself with those colorful looking plaids? If you are answering in the affirmative, let your fashion taste soar higher with these amazing plaids. You are sure to set those hearts winning with this lovable women's plaid shirts & tops.
If you love what we offer, do give us a shout-out! That would draw a deep curve on the face of our team.
At Southern Honey, we always give importance to what you think and what you need. Let us know if you are looking for some amazing women's outerwear that could set your glamour quotient higher than ever!