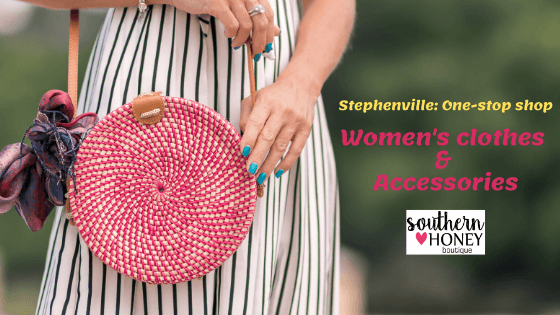 Online clothing boutique in Stephenville: One-stop shop for women clothes and fashion accessories
Known as the 'Cowboy Capital of the World' and the 'City of Champions', Stephenville is all famous for their small-town values, their sincerity and work ethic, family values, and people with a loving heart. The city is quite known for having the best boutiques in Texas too.
Southern Honey Boutique is one of the best trendy online boutiques with a wide range of clothing and accessories and it's a one-stop-shop for all things fashion in Stephenville.
Clothing is not the only thing that matters, What next?
If you want to look absolutely perfect you need to work on your entire outfit. And that is where we come in, owing to the ongoing quarantine scenario we might not be able to attend those parties or go on dates for an unknown amount of time in the future. But we can use this time to style up our wardrobe and go all in style when we're free to move around. 
Imagine having your wardrobe sorted when you start going to your workplace again. How cool that would be? 
So here are six such fave looks that we have rounded up for you to try on.
The chic look:
Combine this chic and fab dress with a pair of easy to wear strappy block heels and witness the elegance of this subtle look. Vertical stripes on the dress will give a serious length and the block heels will add to it and make you look tall and lean. Choose this look for a small spring outing or brunch date, and you'll definitely stand out! And if you are into earrings, a pair of wrapped for your earrings will look really good with this dress.
The kimono look: 
This look is perfect for a night out. All you need to do is layer the carla printed kimono over the sexy, white, sunny cami and pair it up with jeans and a pair of black heeled booties. If you want a look for summer, kimonos go really well with shorts, a plain tank top, and sandals. Take the viljandi leather purse alongside to glam it up a bit more. If you like wearing earrings, diamond studs will perfectly go with this outfit.
The floral look: 
Accessorize this long floral femme dress with a delicate, subtle, simple boho neckpiece like the fallen necklace and give it a twist by putting on a pair of sneakers! Avoid wearing a statement jewelry piece because that might distract the entire attention of the dress. Anything small and subtle would do!
If you like wearing off-shoulder tops with long sleeves, this look is for you!
Create a look by pairing the claire knit top with a pair of the distressed kancan cali shorts or a pair of judy blue court patched jeans. A silver-colored jelly bangle bracelet would look really cute with this combination.
T-shirt and shorts never go out of fashion.
The peach-colored he left ninety-nine tee would look perfect with a pair of high rise shorts and funky sneakers. Just tuck it in a little, wear a cute watch, leave your hair open with light curls and you're good to go! The look is amazingly effortless and extremely pretty too! You could even spice it up with an anklet.
The wrap dress look: 
Summers are the best time to wear wrap dresses and what better than a breezy summer wrap dress with some beautiful delicate heels and a pair of statement earrings. The wendy wrap dress from a southern honey boutique is the best choice if you're looking for a cute summer look. Just straighten your hair and leave it open and apply a tinge bit of blush for a cute look.
So it's time to freshen up your outfit ideas with new colors and styles that will turn some heads wherever you go. Whatever season it might be, it is always a good idea to do some shopping and revamp your wardrobe. 
Although, just make sure you give a good home to your old clothes that you're getting rid of. Whether you're working in a corporate setting or start-up, going on a date or have a business-casual dress code, there's always an outfit you can come up with using such ideas.
So what are you waiting for? Find your center of attention outfit and slay everywhere you go!