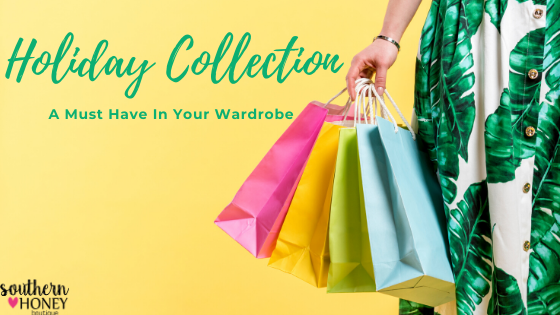 New-ish Holiday Collection- A Must Have In Your Wardrobe
Fashion is more than just clothing. It reflects the wider spectrum of your personality. Finding perfect clothing that will make you all the more stylish, glamorous and confident is necessary.  With the upcoming holidays and Christmas approaching, your wardrobe should be ready to dress you up for any upcoming occasion.
Feel stress-free in selecting attractive and beautiful clothes that exude your mood with Trendy Online Boutiques holiday collection. You can fill your wardrobe with trendy outfits without denting your bank account. You are just a click away from checking our versatile range at Trendy Online Boutiques.
Are you going out for a candlelight dinner with your partner? Well, try this elegant pair of footwear with matching accessories that will make you confident and glamorous to impress your date. 
The Night Lights Tank:
Complement with the classic black jacket is an excellent pick for your club parties. Pair them up with matching boots and flaunt your style with a smile on your face.
The Shanghai Tassel Earrings: 
Slip-on this fashionable pair of earrings and pair it well with a trendy outfit, high heels, red color lip shade, and yes, seal that look with your charming smile!
The Hazel Purse: 
Enhance your look with this hand bag to get that peppy and fashionable look at office, parties or even on casual outings. Add an appropriate amalgamation of fashion with this masterpiece to reveal your flawless side.
Strut The Streets Cardigan :
Take any casual outfit to the next level with light weighted bottom wear. Accentuate your look with comfy sweaters and long boots to make yourself irresistibly tempting. 
Designer Tee :
Match them with ripped denim or leggings to enjoy weekends with your family and friends without compromising on style. Mesmerize everyone around as you groove to the tunes of your favourite songs while playing with your eyes. 
Complete your stylistic look with this stunning necklace piece to adorn yourself. Walk in style as you swirl to the tunes of the songs in the party and spread your charm wherever you go!
A solid pair of black pants equipped with stylish designer top and hooded cardigan will make you feel great whether you wear them to work or to brunch. Experiment with ankle boots and bold red lip shade to look alluring and attractive. Spread your magic to get all the attention you have been craving for long. 
The Jordan LV Clutch :
Add a luxurious touch to your outlook by carrying this contemporary handbag to parties, family gathering and casual outings with your kith and kin. Delight your senses by satiating your hunger for elegant yet affordable women purse this season.
Experience the sparkle this season by wearing a bead style necklace to add colors of joy to your special occasions. Experiment it with traditional saree and black colored heels to accentuate your look. 
A staple white tee is versatile and a must have in every woman's closet.Pair your designer tees with ripped denim and you are all set to go out on road trips and hang out with friends. 
With an office party aligned for this weekend, you need to look elegant and unique amongst your colleagues. You can stock your wardrobe with stylish A-line dresses, sleek trousers, pantsuits and matching accessories.Select a classy black business suit with a crisp white collared shirt and you are all set to shine at the party. Trendy Online Boutiques holiday collection is all you need to play around with your outfits and rock the party in elegance and style. Our New-ish holiday collection is the right place when it comes to building up the essentials section of your closet. 
You can find your next iconic outfit in our new-ish trendy holiday collection that you can mix and match to your heart's delight. Our holiday collection will make you holiday ready and you will never have to worry about not having anything to wear. Our collection is effortlessly styled for both work and happy hour at exciting discounts. Visiting our new-ish and trendy holiday collection at Trendy Online Boutique today!!!