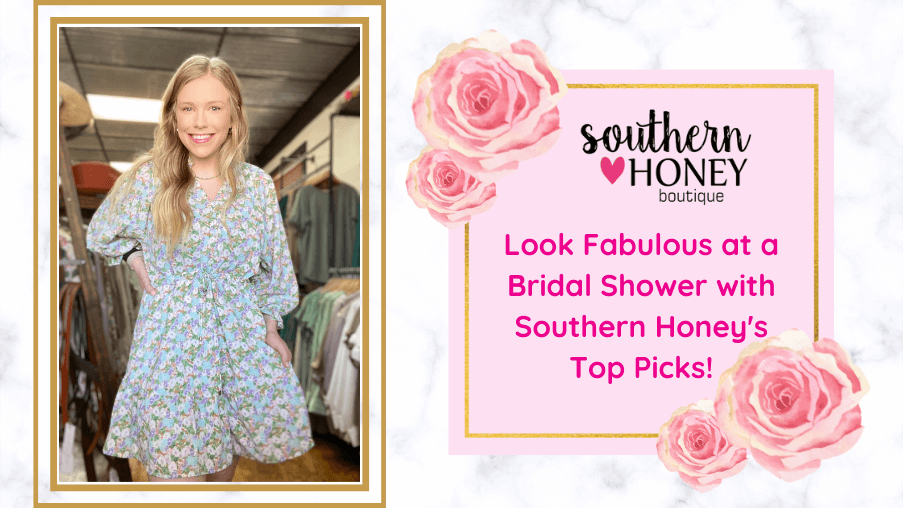 Look Fabulous at a Bridal Shower with Southern Honey's Top Picks!
Does the idea of what to wear for a bridal shower leave you stumped and overwhelmed? Get ready for the next bridal shower- whether you are a happy bride-to-be or an honored guest with Southern Honey. We will help you find the unmistakable pick that celebrates your flair and fits into the romantic vibe of the occasion.
Eight Ensembles to Make You Realize Sartorial Dreams for a Bridal Shower
Bridal showers are about capturing the essence of sheer joy in the atmosphere. Thus, your outfit must replicate a similar energy with a feminine touch. Here are the eight top picks from our
boutiques in Hobbs, NM
, to celebrate your beauty on such a momentous occasion.
1. Embracing the Floral Trend: The Rum Dress, Julie Floral Earrings, and Regina Heels
When you thought floral dresses could not get any prettier, we go and prove you wrong! The Rum Dress from our floral maxi dress boutique collection is perfect for twirling and dancing all night. With an easy-going silhouette and delicate print, this dress celebrates the occasion's beauty and joy. You can complement the look with minimalistic Julie Floral Earrings for exuding springtime vibes. With a pair of sleek heels like Regina Heels, you have one ensemble showstopper!
2. Channeling the Free Bird Within: The Hanna Embroidered Dress, Initial Studs, and Dawn Booties
The Hanna Embroidered Dress is a timeless option for bridal showers as it flatters all body types and looks graceful. Its airy-light silhouette and floriated embroidery mirror a dreamy vibe, maximizing comfort. Whether you want to add a classic touch or something more contemporary, this dress will surely please. You can keep the accessories minimal and opt for the Initial studs. For footwear, pick the Dawn Booties from our women's designer shoes for a put-together look.
3. Dipped in Subtle Elegance: The Jasmine Dress, Ivory Turquoise Stone Necklace, and Natania Heels

Since a bridal shower calls for hours of celebration, putting comfort and style in sync is necessary, and the Jasmine Dress is a considerable choice. A relaxed fitting and single-tone colorway makes it brimming with versatile styling options. Its ever-so-elegant bishop sleeves give an exciting touch to your attire. Nothing can play the part about accessories like Ivory Turquoise Stone Necklace from our women's fashion jewelry assortment. Slip into the Natania Heels to keep the appearance low-key but high on style!
4. Romancing the Ruffles: The Floral Ruffle Dress, Brown It's Party Time Earrings, and Adelaide Booties

The Floral Ruffle Dress is sure to have everyone's eyes on you. Its light brown shade complements any skin tone beautifully. Patterned with an ornate floral design, the Floral Ruffle Dress represents a combination of dainty aesthetics and refined glam. The breezy silhouette and ruffles at the hemline will make you feel like a princess. For more such dresses, check out our fancy women's dresses online. You can add bling to your outfit with Brown It's Party Time Earrings. Give a finishing touch to your appearance with the chicest Adelaide Booties.
5. Channeling the Feminine Side: The Scallop Dress, Mauve Layering Necklace, and Ester Booties

The Scallop Dress from our Stephenville boutiques plays with texture and cuts, giving an irresistible appeal to your personality. This dress will make you feel confident and beautiful with meticulous neckline work, a free-flowing hemline, and a slinky bodice. The dusty peach color adds an extra charm to the whole look, making it a timeless piece you can wear repeatedly. Elevate the outfit with Mauve Layering Necklace and Ester Booties to make an everlasting statement at cherishable celebrations.
6. Swooning Over the Subtle Glamor: The Marlo Dress, Dottie Earrings, and Brooklyn Booties

Feeling like royalty is just an outfit away with the Marlo Dress. It is one of the trendiest pieces from our boutiques in Stephenville, featuring a bold pattern and a waist-cinching fitting. You can show off your curves without sacrificing comfort, all thanks to the breezy hemline of this outfit. It skims over your body without restricting the movement so you can dance to the tunes of your flair. For a head-turning look, pair the dress with Dottie Earrings and Brooklyn Booties, and you are all set to nail the occasion.

7. Living the Summer Dream: The Square Neck Floral Dress, Jackie Floral Earrings, and Remi Heels
Say goodbye to the days of searching for an outfit that ticks all the boxes for a bridal shower with the Square Neck Floral Dress. As the summer is calling, show off those glazed collarbones with the square-shaped neckline. The A-line silhouette and lightweight fabric radiate a flawless balance of structure and femininity. You will get swept away by this dress's flurry of botanical prints, which goes well with the indoor and outdoor bridal shower theme. The Jackie Floral Earrings and Remi Heels would add a character to the ensemble while keeping things simple.
8. Basking in the Satiny Glow: The Party Time Dress, Into the Jungle Earrings, and the Kasie Booties

If you want an unconventional yet sophisticated attire, the Party Time Dress from our boutiques in Stephenville, TX, is a great pick. It amalgamates class and allure together in one piece, giving a sleeker outline you will love. The dress also comprises an interesting pattern inspired by the polka-dot design. Besides, the luxurious aesthetics and smooth touch of satin contribute to the desirability of the outfit. The Into the Jungle Earrings would bring a flirty and playful touch to your look, whereas the Kasie Booties will raise the style bar.
Conclusion

Dressing up for a bridal shower can be intimidating, especially if you cannot decide what to wear. From making subtle entrances to going glam, Southern Honey has got you covered. These eight dresses from our boutiques in Hobbs, NM, are a delight for your fashion palette. Seize your magical moment with designs that are sure to linger forever!