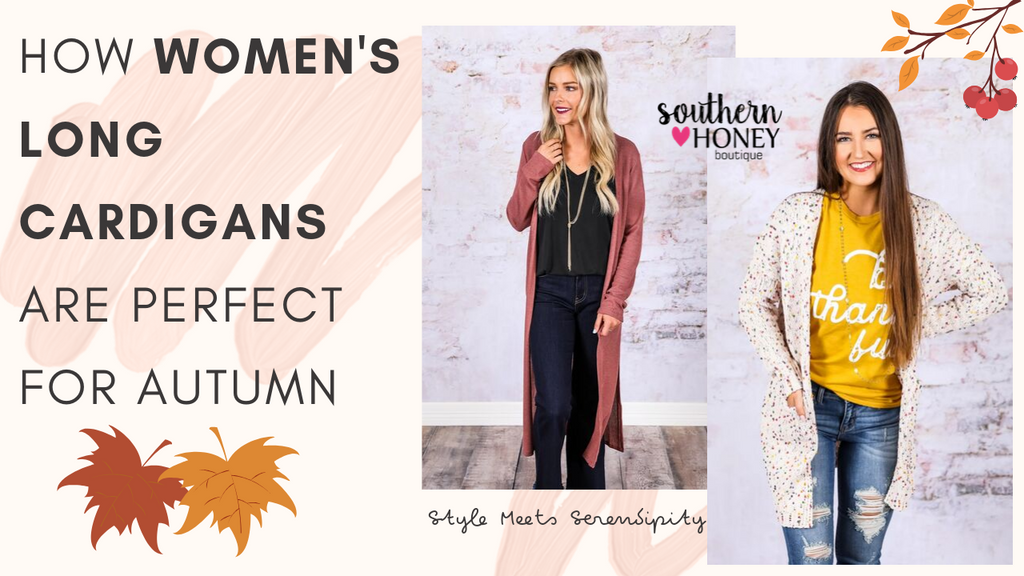 How Women's Long Cardigans Are Perfect For Autumn 2019
Change is inevitable, and that is the essence of the autumn season. Autumn inspires us to experience the beautiful feeling of letting things go. With this season kicking off, it is time to get rid of your old fashioned woolens and reset your wardrobe with Women's Long Cardigans which are trendy and stylish. With Southern Honey's great and amazing collection of cardigans to choose from, we bet you'll be filling your shopping cart with a handful of them.
We know how important it is for you to look unique this autumn. To delight you; our wide range of cardigans with a variety of stylish patterns and funky designs are available to give you the look you aspire for. 
Let's get a sneak peek of what Southern Honey Boutique has to offer you this autumn:
Looking for a simple yet elegant look? Our cute cardigans like The Confetti Cardi & The Carnival Cardigan is the answer. It not only looks cute and sober; but also keeps you warm on chilly days. The most striking feature of these cardigans is that it gels up well with a pair of denims, a floral skirt or a pair of bright-colored shorts. 
When you want to get that look of a hand-woven cardigan, there is no better choice than a boutique cardigans. Southern Honey has wide range of cardigans like Open to Possibilities Cardi  or the Chilly Summer Nights Cardigan with multiple colors. As these cardigans are mostly in mono-color, make sure that you wear them with a pair of blue jeans or self-designed trousers. 
Want to take some load off your shoulders? Try the women's lightweight cardigans from the house of Southern Boutiques like The Demi Waffle Cardi and Caroline Waffle Cardi. The cotton-rich material makes them lighter and easy to carry. These cardigans mostly come in subtle colors and can be paired with a contrasting trouser or a pair of denims. These can also be paired with business bottoms or a formal skirt to pull off that corporate look gracefully.
If you are a fan of long duster cardigan, then our The Everyday Cardigan is the right option for you. It not only makes you look taller but also adds a graceful look when you pair them up with your favorite palazzo, a pair of jeans or trousers. Although most patterns of these cardigans go up to ankle length, there are some shorter knee-length patterns as well which are worth trying. It can come in handy when you are planning for an outing or a casual hang-out with your friends, relatives or colleagues.
As the autumn season has already knocked at your door,
get yourself ready with women's outerwear
. We are sure that the above-suggested women's cardigans would give your wardrobe a new look to carry every day in style. It is vital to keep yourself warm while you get the chance to flaunt your favorite women's long cardigans, and Southern Honey's huge collection of
women's outerwear
help you achieve that. They'll add charm to your personality while making your friends go wow over the latest designer cardigans which you wear.