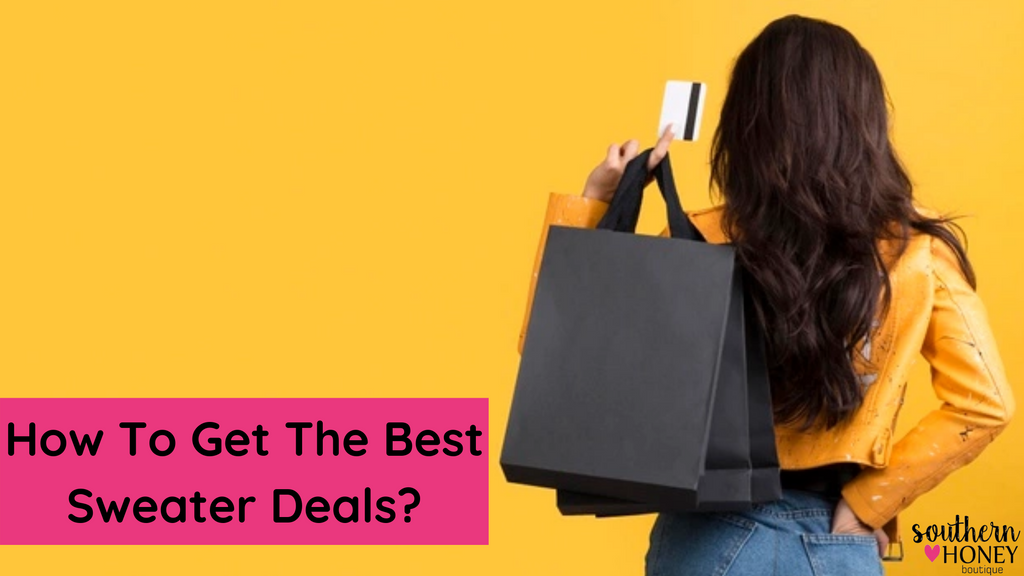 How To Get The Best Sweater Deals?
The warm, sunny days are gone leaving the cold winters to stay! This demands a stock of cozy sweaters and body warmers in your wardrobe. Even if you are a minimalist living amidst high temperatures, your closet needs a sweater to combat occasional colds. They add to your comfort no matter what type of outfit you are wearing on a freezing day. 
The current definition of sweaters is extremely different from the olden days, where they were considered a piece of woolen toppers that protect your body from cold. The market currently offers fashionable sweaters woven from a variety of fabrics ranging from cotton to cashmere to wool. You need to explore the world of sweatshirts and sweaters to find the one that best suits your body and style. Read this article to know about finding the best deals for buying sweaters from our Texas boutiques.
How to find the best fit?
Sweatshirts for women vary in terms of shape, style, colors, and fabrics. Their sizes are smaller and less boxy as compared to those of men. Usually, they are cropped from the waist and the ones labeled as "oversize" have shorter arms. But Southern Honey offers the perfect oversized sweaters for women woven from different materials. You can find fashionable pullovers with varying colors and patterns in the store.
Further, you can also choose the "button-down" sweaters. The size of the buttons is an important aspect of such outfits. Finding the best colors and designs of the buttons is also essential for an elegant appearance in winters. Also, note that women's sweaters have their buttons arranged on the left side, unlike men's sweaters. The reason for this discrimination is still unknown in the fashion industry.
Getting the best sweater deals!
Our Texas boutique offers a wide range of sweaters on the online store in this era of digitalization. Unlike routine shopping for your outfits, buying winter clothes is quite tough and confusing. Here are some tips to make it easier for you:
Sweaters today are available in cotton, woollen, cashmere, and many other fabrics. All of them have their pros and cons. Cashmere is softer and durable but expensive too. Cotton is sturdy, but it does not offer the same warmth as wool or cashmere. But if you prefer variety, get all of them and wear them according to the weather and occasion. Thus, you don't need to buy expensive fabrics for all your sweatshirts.
Hoodies have dual benefits – One, they are warm and cozy; second, they can be worn over your jeans, skirts, trousers, or pajamas to get party-ready! Additionally, they also have an attached cap that protects you from the freezing wind and saves your expenses of getting a scarf. It is always advisable to get oversized hoodies with long sleeves to ensure that you get enough warmth. 
There are hoodies woven from mixed fabrics available in the market for better texture. You can also buy the ones with a zipper or pull-overs based on your choice. The one with a zipper can also be used as a jacket over any topper. Thus, you get a unique style and the perk of closing the zip when you need warmth. Hence, you don't need to carry extra body warmers in your bag.
Sweater dresses are long winter outfits that almost reach your knees. The major advantage of these dresses is that they can be worn with or without your lower. Further, you can also tuck them in your jeans, skirts, and trousers and style them according to your wish. There are wrap-over sweater dresses available in the market that can be used as cardigans and tied to make a comfy sweater.
Choose the colors that go on almost all the outfits:
The colors like black, white, brown, etc., match almost all the outfits. Select the sweatshirts or cardigans with these colours so that you don't need to run around searching for the ones that go with your attires. The pattern and design of the winter wear you choose also plays an important role in this process. This saves your expenses of getting a variety of sweaters. 
How to style your sweater to make it more fashionable?
Sweaters have always been boring outfits. Surprisingly, you can also style them to get a gorgeous look even with oversized sweatshirts, hoodies, and sweater dresses. This saves your money that you might have to spend on buying trendy sweaters during winters. Here are some of them:
Wear a belt on your sweater dress to make it look stylish
Tie a knot out of your oversized hoodies or sweaters for a modish appearance
Buy a wrap over a sweater dress and use it as a cardigan on your Tees or shirts.
If you have a sweatshirt with buttons, you can choose to button it up partially for a better style.
Wear whole boots on your sweater dress, and this will give you a party look with zero effort.
Conclusion
Thus, buying good winter wear won't ever be heavy on your pockets if you follow the tips mentioned above. This winter, get your sweatshirts from the Southern Honey online clothing boutique at highly affordable rates. We offer a huge variety under the category of sweaters and all the body warming clothes! Hurry up and grab your favorites from our store before we get out of stock.