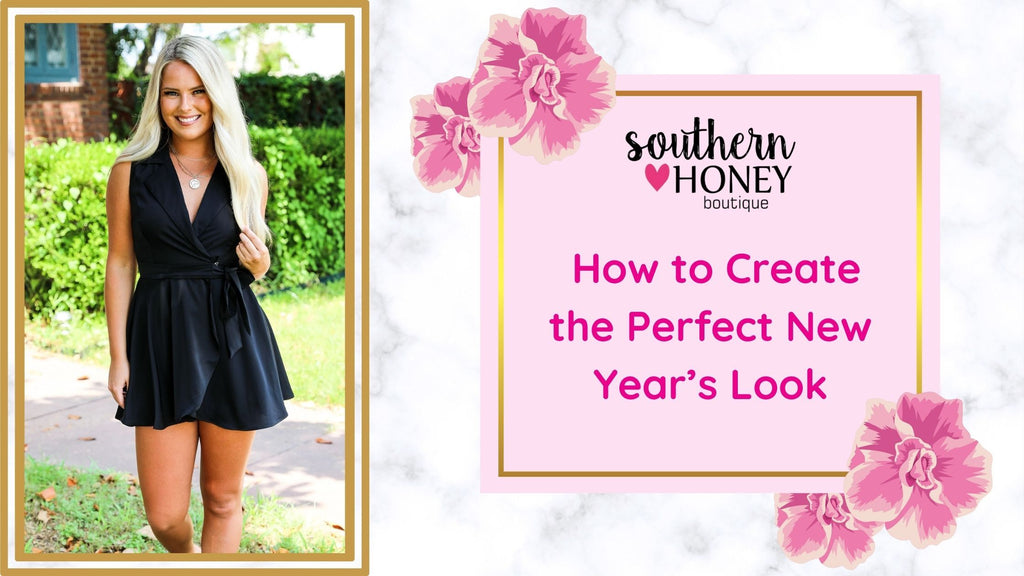 How to Create the Perfect New Year's Look
The New Year is here! If you've been too busy deciding on your New Year's resolution to decide on what outfit you're going to wear this New Year, we have some quick styling tips for you!
New Year is always a great time to pull out a glamorous dress, get your hair done, and throw on your favorite pair of heels! Whether you're headed out to a big party or having a quiet and intimate start to the new year, you should always feel your absolute best. For you to achieve this, we've put together the ultimate New Year style guide to make sure you look fabulous and create a striking statement!
Choosing Your New Year Look
Our experts at Stephenville Boutiques have put together some tips and tricks to make sure you're looking absolutely fabulous on New Year!
1. Choose Bold Colors
Black and white dresses are classics; there is no doubt about that! But if you want to stand out, we suggest going for red, blue, or green colors. Don't be afraid of stepping outside your comfort zone and changing up your typical color palette. If bright colors aren't your jam, try out some darker tones. They look more muted, elegant and still help you to stand out.
2. Find the Right Fit
Finding a look that compliments your figure is significant. If you plan to wear a dress, we recommend looking for something that cinches around the waist and sits at a length that you are comfortable with. While trying on your dress, check to see if the shoulder seams meet at the edge of your shoulder blade. Make sure the look you choose is not only fabulous but comfortable as well.
3. Accessorize to Bring the Look Together
Accessorizing is one of the most underrated steps of creating the perfect look. Of course, anyone can wear a dress, but styling and adding accessories can take your outfit to the next level. We suggest investing in jewelry, belts, or hats that are versatile and go with a wide variety of different outfits.
4. Layering is Key
While you're planning out your outfit, don't forget to consider the weather! The end of the year can be pretty cold, so you're going to want to make sure that you layer up. If you're planning to wear a dress, we recommend adding a chic leather jacket! If you're going to wear a blouse, you can add a wide variety of top layers, such as a denim jacket, cardigan, or wrap. The options are endless!
Complete Outfit Ideas To Shine Out!
Business Casual With a Hint of Shimmer
If you want to go for something fabulous but classy at the same time, we suggest going with a classic pair of the Heidi Skinny Jeans paired with a vibrant sequin top to make a statement. Layer the top with a chic black corduroy jacket, and put on your favorite pair of boots to complete the entire look! If you want to skip the sequin top, we recommend The Veronica Top, in the color champagne. The sleeves add a dramatic touch and champagne color adds to the classy look you're going for!
Rock the New Year With Glitz and Glamor
Keep the party alive and well in this sequin skirt with The Vanessa Top. Together they create the perfect head-turning look. You don't need to worry about accessorizing with this outfit because the sequin skirt already makes a bold statement.
Red Ain't Just for Christmas
Step outside of your comfort zone and go bold this New Year! Red is an excellent way to make a statement. Bold red or deep red, the choice is yours. Our Belted Waist Knit Dress and The Square Neck Dress are excellent choices for this occasion. You may spice up the dress with a bold animal print jacket. The combination of color and print looks bold and eye-catching. Purchases these dresses online or in one of our clothing stores in Hobbs, NM, or Stephenville, TX.
Casual and Cozy
Are you having a night in with your family? That doesn't mean you can't dress up. In a loose, oversized knit cardigan, you'll look your coziest. Wear it with a black tee and leggings. If you want to dress up the outfit, replace the leggings with women's designer jeans. Look for the latest trends from our women's online boutique.
Sweater Weather
The off-shoulder sweater dress with a tie-in belt is ideal for a cozy NYE soiree at your friend's house. It looks super cute and chic. Pair it with boots and gold earrings to complete the look. We recommend keeping your hair down for this look!
Our Conclusion
We hope that these tips and tricks help you create an absolutely fabulous look for your New Year's party! If you're still struggling to find the perfect look, don't hesitate to browse our latest collections! Then, treat yourself to a New Year's gift from Southern Honey Boutique! If you're not a fan of online shopping, head to the location tab and type "boutique stores near me" to see if we have a boutique in your area!