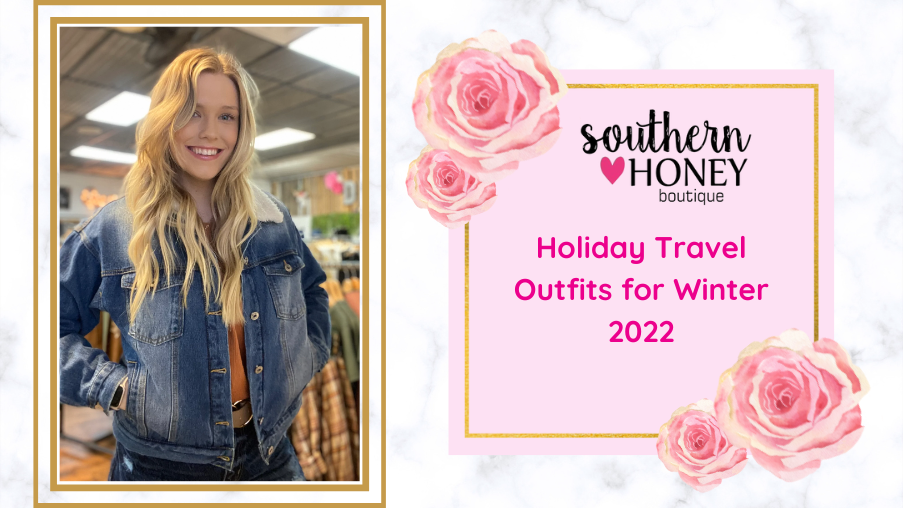 Holiday Travel Outfits for Winter 2022
With the winter holidays around the corner, it is time to pack your suitcase and dip into the jovial days ahead. Do not let the cold weather become a hurdle in flaunting your best looks. Ditch the demure styles this winter and stock up your travel suitcase with long coats, denim jackets, sweater dresses, pullovers, cardigans, and boots. These winter essentials from Stephenville boutiques will keep you warm while staying fresh throughout the season.
8 Outfits to Keep Your Winter Holidays Filled with Glam and Comfort
Deciding what to wear during the holiday season can be a big headache, especially during winter when the options are limited. Whether you are jetting off to a tropical destination or heading to your family's annual Christmas party, these eight outfits from our boutique in Hobbs, NM that will be a big hit!
1. A Timeless Flair: The Tex Pullover, Kancan Steeley Jeans, and Brooklyn Booties
The Tex Pullover is a staple for the fall-winter wardrobe, getting you all dolled up for the season of joy. Its off-shoulder design and texturized finish in classic black color will add depth to casual looks. Style up this pullover with the Kancan Steeley Jeans and throw on a pair of Brooklyn Booties. This outfit combination goes well for attending brunches, concerts, and bonfires with your friends while feeling your best.
2. Toasty and Comfortable: Cooler Days Puffer West, Olivia Light Sweater, Mica Jeans, and Bohemian Boots
Get your bright eyes ready for a feminine-chic way to layer up this winter. The Cooler Day Puffer West from our Stephenville boutiques flaunts eye-soothing aesthetics, keeping you warmer during the colder months. You can top it over the Olivia Light Sweater in a light pink color. Tuck the sweater inside the Mica Jeans and wear the Bohemian Boots to create the ultimate look for winter 2022.
3. Keep Your Spirits High: Rosalie Coat, Olivia Tee, Machina Flare Jeans, and Dawn Booties
When the weather gets rough, the Rosalie Coat is here to keep you cozy. Snuggle up in this olive-colored piece and stay on top of your fashion while getting through the winter. Complement it with Olivia Tee and Machine Flare Jeans to create a head-turning airport look. For footwear, stick to the Dawn Booties for a minimalistic yet elegant appearance. You can also check out more options for women's designer shoes to match the coat.
4. Let the Good Time Roll in with Grace: Vintage Puffer Jacket, Mélange Knit Top, Love Straight Leg Jeans, and Lacey Boots
Winter campouts can leave you feeling iced out; layering up your outfit is an excellent way to relish holiday adventures. Take on the cold season and show off your vibrant personality with Vintage Puffer Jacket from our boutiques in Stephenville. You can slip into the Mélange Knit Top and the Love Straight Leg Jeans for a graceful and aesthetically-pleasing look. Do not forget to put on versatile Lacey Boots to stay comfy on the go.
5. Spice Up Your Personality: Lana Cardigan, Carmela Top, 90's Vintage Loose Fit Flare Jeans, and Beige Anastasia Boot
Elevate your style with a signature look that is worth every stare with Lana Cardigan. It has an unmissable appeal to it, making your appearance effortlessly gorgeous for holiday nights. You can pair this cardigan with Carmela Top and the 90's Vintage Loose Fit Flare Jeans for an easy-going fitting. Likewise, you can browse through our women's designer jeans collection to pick one that suits your silhouette. Finish off your attire with Beige Anastasia Boots to stay sophisticated and glamorous while cruising through the streets.
6. Turning Up the Heat: Loose Fit Sweater Dress, Brown Lindsey Leopard Wool Hat, Tan Color Block Scarf, and Chelsea Bootie
Enwrap yourself in a delicate, wearable luxury with Loose Fit Sweater Dress. You can also browse our assortment of winter-suitable fancy women's dresses online. As the weather gets chilly outside, bundle up for the exotic getaways with the Brown Lindsey Leopard Wool Hat. Accessorize your outfit with the Tan Color Block Scarf for an elaborative touch. Take your simplistic look from early morning through dinner in Chelsea Booties.
7. Basking in the Beauty of Basics: Raquel Pullover, Candice Pants, and Ramsay Bootie
Feel the essence of the holiday season in the air, savoring a joyous time with family and friends in the Raquel Pullover from our boutique in Stephenville, TX. It is an everyday essential to step up your style game. Its fashion-forward sleeves will transform your monotonous winter façade. You can complement this well-designed pullover with Candice Pants and Ramsay Bootie for a refined look. Unmind the cheerful atmosphere around you, keeping your heart and soul warmer than ever.
8. A Tailored Perfection: Wool Lined Denim Jacket, Camel Caitlin Top, Bree Boyfriend Jeans, and Vella Booties
The Wool Lined Denim Jacket is an evergreen staple piece for a winter travel wardrobe. Its on-trend design with the lining of wool reflects minimalism at its best. This jacket will shield you against the cold waves of the season, keeping you fashionable. Whether you are vacationing with friends or family, the Camel Caitlin Top and Bree Boyfriend Jeans are a perfect accompaniment to the jacket. Give a stunning finish to your attire with the Vella Booties for adding an edgy texture to your look.
Conclusion
Holidays call for having great times with family and friends but finding something fabulous to wear during winter can be a struggle. Embrace the warm, rich, and vibrant colors to let your closet choices speak volumes of your style. Cherish the blissful moments of the winter holidays with your loved ones in flattering apparel options from Southern Honey's boutiques in Hobbs, NM.