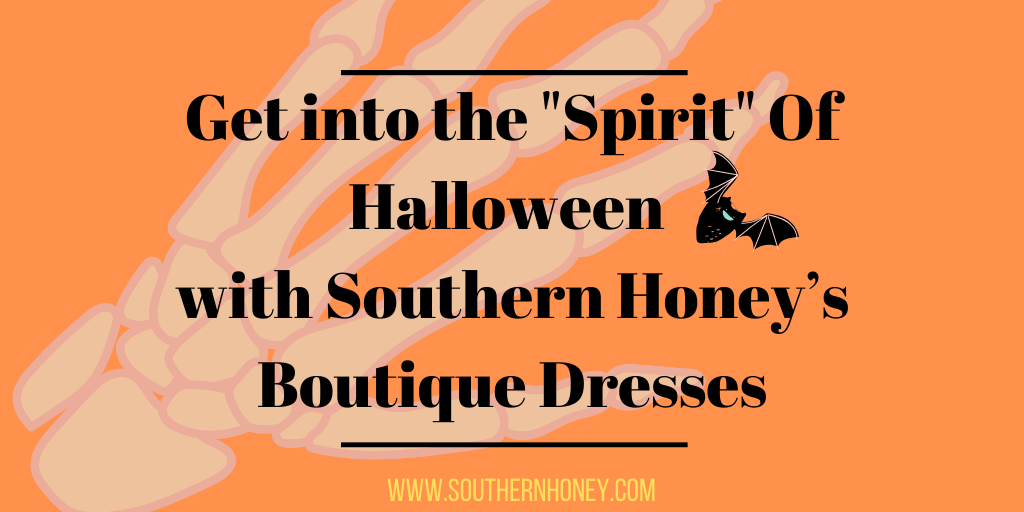 Get into the "Spirit" Of Halloween with Southern Honey's Boutique Dresses
The Halloween is just around the corner,but haven't you got any stylish Halloween dresses to wear?
Well good for you that we have stocked a lot of Halloween-themed boutique dresses at Southern Honey Boutique!
We know that you don't want to look awkward in an old Halloween costume that you wore just two years back. You want to look your best in the Halloween costumes without compromising on your style. We have just the right kind of wear you are looking for – sexy, pretty and jaw-dropping Halloween-themed women's wear which you can mix and match. These costumes are not just to wear during the night of Halloween but also to wear all around the week in the spirit of Halloween!
So let's jump into some of the popular choices for daywear and party wear during the Halloween season.
Become a Glittery Snake Charmer!
If you are looking for great party wear Boutique Dresses that is colourful, shining and makes you stand out from the rest, then this is just the one for you! Going with the theme of Halloween, you can match up this gorgeous 'Catch Me in a Snakeskin Dress' with a pair of brown knee-length leather boots or a simple ankle-length tan boots, a black belt and some funky chains or bracelets and make it a showstopper. 
You can even double it as a Halloween costume by adding your own snake charming flute and wind up a snake-themed necklace around your neck and go like a snake charmer too!
Modern Witch to Scare!
Hustling to get a scary Halloween costume that also makes you look sexy? Well, just imagine this. 
Wear our 'Basic Witch Tee' and pair it up with a long, charcoal cardigan and a pair of distressed jeans. You can include your style signature by wearing some leather pants or shorts with netted designs too. Add a pair of boots and some scary accessories like this 'Metal Headdress Necklace' and a pair of metallic earrings, maybe a few other thick, metallic bracelets, anything from your own collection. Complete your costume with a nice big, pointy hat that is tattered to complete the look. If you want to go a bit ahead, carry a broom too, if you will!
Funky Pumpkin T-Shirts Every Day!
If you are all about minimal wear, then we have something for you too!
With a few Halloween-themed t-shirts, you will be set on your way to showcase the spirit of Halloween without overdoing it. Pumpkins are becoming synonymous with Halloween and what's the best way to show your spirit of Halloween than wearing pumpkin-themed t-shirts?
We have quite a good collection of boutique dresses with pumpkins like this simple 'Grateful, Thankful, Blessed Tee' that comes in grass green colour and heather clay colour. Else, become a delivery girl of fresh pumpkins with this simply gorgeous 'Farm Fresh Pumpkin Tee'! You can pair either of these tees with shorts, jeans or some funky skirts to add colour. 
Want to add a Halloween touch to your daywear subtly? Well, this simple orange pumpkin on a distressed grey tee will never fail to deliver your intent.
Are you excited about mixing and matching your costume this Halloween season? Well, get from one of the best online dress boutiques in – Southern Honey Boutique – and sizzle through the Halloween week!