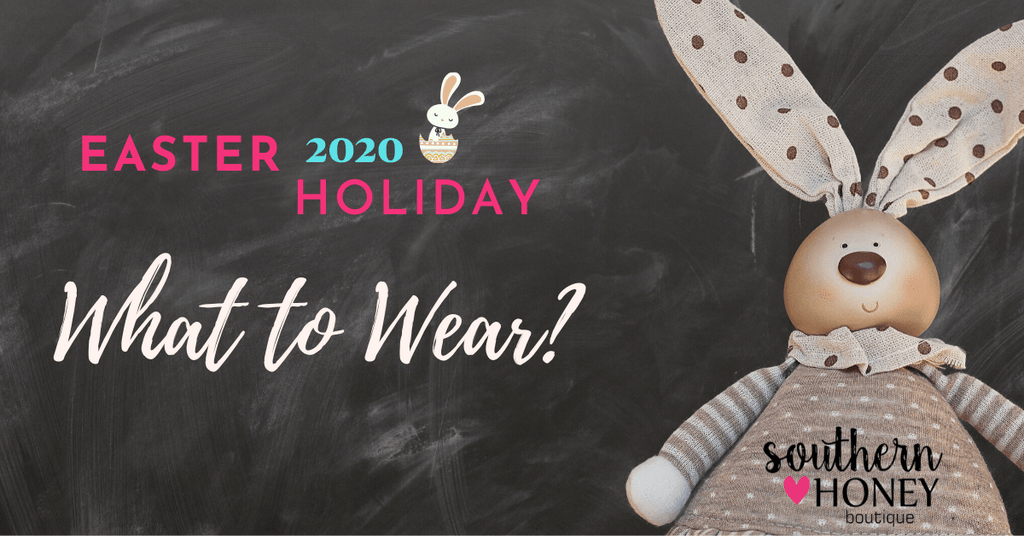 Easter Holiday 2020: What to wear?
Falls are over, and it's time to welcome Easter holidays, the beginning of spring. Unleash your body, throwing away the layers you have put on to withstand the cold. It's time to wrap comfortable outfits that help keep your body fresh. This is the time where you need to upgrade your wardrobe with Easter Fashion of 2020. 
Southern Honey, Texas online Boutique has come up with delicate Easter wear aiming to decorate your body with new colours and designs. So, get ready to enjoy Easter parties with Easter 2020 Fashion from one of the best online boutiques in the USA. 
Here is a glimpse of our Easter collection.
This tank top with a beautiful print is one of the best selling tops at our Texas online boutiques. Available in different sizes, this top gives you a party look over jeans, shorts, pants or any such lower of your choice.
Our online boutiques offer this exclusive jumpsuit available in elegant black as well as Mauve colours. This single piece jumpsuit is best suitable for parties and picnics this Easter.
Get off the sleeves with this gorgeous Maxi dress, known for its vibrant yet straightforward design. We offer all the sizes with blush as well as white colours. Enjoy this season with this gorgeous piece in your wardrobe.
Try this out if you are fond of knee-length dresses. The soft material and floral neck embroidery give you comfort along with a bright look.
Grab this piece from Southern Honey Trendy Online Boutiques, if you are fond of rompers. The floral neck embroidery and smooth material add to the beauty of the white colour of this romper.
This extremely comfortable white knee-length dress gives a perfect Easter party look with vertical floral design, balloon sleeves and frills at the knees.
7. The Esmerelda Top
Our Texas Online Boutiques have launched this black top with delicate horizontal and vertical embroidery on the upper side. The neck border is also lined with excellent floral thread work giving the top a subtle yet gorgeous look.
Southern Honey Boutiques have introduced this top with an exclusive bell sleeve pattern. It has a well designed V-neck pattern surrounded by an excellent thread work that is also seen at the borders of sleeves.
Pick up this dress from our online boutiques if you love frills. This pattern goes very well with the grey straps of varying width on a white background. This sleeveless dress with V-neck looks gorgeous yet straightforward due to beautifully crafted buttons on the midline.
Tees are an evergreen fashion. The silver printed "grace" on a mustard round neck tee is meant to give you a graceful look this Easter. Wear it over jeans, shorts, pants or match any lower of your choice with this piece and you will be party-ready!
Black adds to the beauty of anybody. Southern Boutiques at Texas have come up with beautiful black round neck tees with glitter crafted "Girl gang" at the front. The blue colour of the craft gives the best contrast to the black of the tee.
These paper bag shorts are available at our Trendy online boutiques in opulent olive as well as brilliant black colours. Choose your size and pick it up at the earliest.
With a blend of 94% cotton, 5% polyester, and 1% Spandex, these Judy Blue shorts are up to soothe your skin during this Easter. Grab it before we go off the stock.  
This classic polyester top with frilled cap sleeves is available in Navy as well as Sunkist colours. Enjoy the grace of frills with this top.
The designers at southern honey Texas boutique have introduced this off-shoulder blouse with bright purple colour and delicate lace around the shoulders. Pick it up from our stores and make your Easter more fashionable wearing it over shorts or pants.  
Southern Honey has come up with hoodies made out of pure cotton fabric this Easter to fulfil your wish of wearing hoodies in this season. It fits comfortably to your size and the grey colour goes fantastic with any lower of your choice.
Visit our online boutique to grab this blouse stitched out of real cotton fabric. The off-shoulder pattern, along with the fabric, is best suited for Easter. You can choose from sage or Mauve colours available for this pattern.
This super cute blue coloured top is stitched out of classic Tencel fabric. The top has a simple shirt-like pattern, but the tie-top design makes it perfect for Easter hangouts.
Feel the softness of this cardigan with amazing embroidery this Easter. Wear it over a tee, tank, tube or any upper of your choice and add to the elegance of your looks.
20. Floral Wrap Dress
Wear this floral wrap maxi to the church, Easter parties, or Family gatherings and be in the spotlight of any Easter event. The Texas boutique of southern honey offers you this dress at a very affordable rate.
Texas online boutique of Southern Honey has an excellent collection of Easter Wear this 2020. Visit us at www.southernhoney.com and go through our exclusive collection. Apart from the list mentioned above, our online boutiques have a vast range of tees, wrap dresses, tunics, jeans, and footwear as well. Grab your favourites before anyone else does!