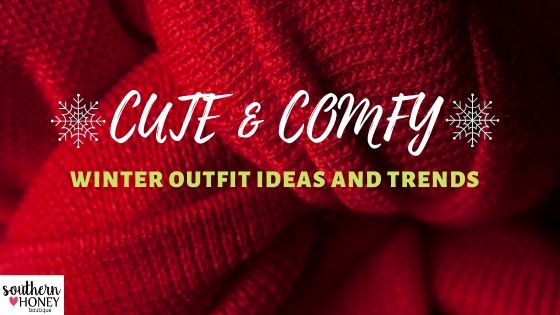 CUTE & COMFY WINTER OUTFIT IDEAS AND TRENDS
Do you want to look fashionable, trendy and stylish outfits without having to worry about the chilly weather?
Drop your worries. Cause' we are serving you coolest outfit collections on the platter. We bet you won't be able to resist buying. Revamp your wardrobe with these exquisite outfits from 'Trendy Online Boutique' and beat this winter in style.
Searching for outfits that will make people go head over heels for your classic, but chic look? If so, then this cardigan is a perfect match for you. Layer this cardigan over a black printed tee or top; pair it up with blue jeans and ankle boots, giving off a warm and stylish vibe for your casual days.
Getting ready for clubbing, but the cold is bothering you from wearing your beloved party dress? 'Texas Online Boutique' knows your worries. With the sequin bell sleeve kimono, bewitch everyone with your charm. Wear this kimono to your date with your special someone. Accessorising this kimono with your dress and a pair of knee boot will make your partner adore you more.
3. Better Color Block Sweatshirt
Bored of wearing the same old leather jacket to your casual meet-ups? Want to try something new that will look cool just like the leather jacket?Fetch the sweatshirt as they are trending huge this season.
Even on the chilliest days, wear your sweatshirt by layering it over any tee and pair it up with your blue jeans or leggings. Accessorizing it with your white or red sneakers will just make you look more fashionable.
4. The Lizzo Sweater
Get edgy and cool chic look by matching the sweater with a pair of shredded denim pants and matching ankle boots. Grab a hat and try the outfit out, while going for an outing with friends or a casual date night.
5. The Danni Striped Hoodie
For an exquisite, warm and stylish look, layer the hoodie inside your black denim jacket. Make an alluring mark by matching your outfit with a pair of tights or blue jeans and your ankle boots.
This simple, yet sophisticated look will make a statement, wherever you go.
Accessorizing your boots with your apparel, will give off an exquisite vibe and complete your look.
Grouping your cream colouredLeather Jacket with your preferred pairs of jeans or trousers, and the Joy Tall Heeled will express a classic, elegant style.
Searching for the best boots to wear for a party? 'Southern Honey boutique' has brought you this amazing pair of boots, which are so versatile, that it will go with any outfit, be it a floral dress or jeans with a jacket. Wearing these to your work will just add a classy look to your outfit. These are comfortable as well as stylish.
Wanna get a biker inspired look?
Grab a Black Leather Jacket, then. Match it up with a pair of blue denim pants and accessorize your outfit with these booties and your biker inspired look is ready. In fact, you can match it up with your favourite party dress and get the ultimate chic look. These booties will just make you fall for them.
This outfit is the ultimate match for your formal attire. If you are off to your work wearing your blazer and your formal trousers or even your jeans, just match your boots along with your outfit, to make an alluring mark.
10. The Sweet Spot Cardigan
Spice up your wardrobe with these floral cardigans which looks absolutely stunning when combined with solid tops and blue jeans. Complete your look with a pair of white kicks, to make a statement. Also, don't forget to accessorize yourself with bold makeup; your partner won't be able to keep his eyes off from you. 
So, which outfit are you going to try this winter season?A lot will say, it's challenging to pull together outfits, which are both weather appropriate and figure flattering.But, 'Southern Honey' just changed the game.This winter is all about getting yourself sexy and appealing…