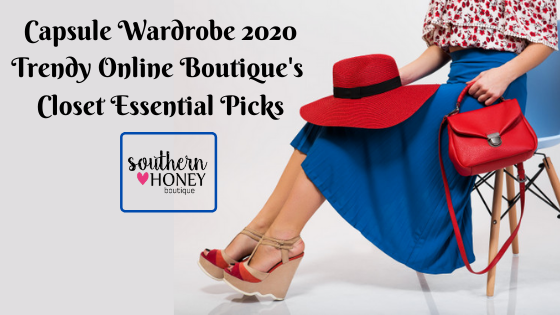 Capsule Wardrobe 2020 - Trendy Online Boutique's Closet Essential Picks
Introduction:
We co-exist in a world of fashion where we are allowed to let our creativity flow, mix and match whatever we like, and create our outfits with all our imagination. However, we can't ever skip the basics of fashion, because that is what makes fashion what it is today. The basics never go out of style, and today, we are here to know about the same: The basics, the essentials, the capsule wardrobe we all need to have!
We tried a mix-and-match of various clothing elements in different outfits, and here's what we came up with. A list of 7 wardrobe essentials to create a capsule wardrobe that can accompany you anytime, anywhere! 
Jackets, the first priority:
Denim or not, printed or plain, long-sleeved or short-sleeved, a jacket never fails to add to the beauty of your outfit. Even the basic most outfit can be given a flair of style by adding a jacket. Have a look at the Dress me up in Leopard jacket from the Southern Honey boutique to style your basic black tee with a high-rise denim and boots on a snowy day! 
If you are thinking about an office party, where you're required to have a not-so-casual look, you can never go wrong with a plain yet stylish blazer. The Emma blazer from online trending boutiques is the closest to perfection your outfit will get if you're heading for a semi-formal event!
Little black Dress: 
One can never get enough of short black dresses. With different fabric and different styles, little black dresses have become the epitome of all time favourite outfits. The V-neck pleated dress from Southern Honey is just exactly what you need for adding a gem to your capsule wardrobe. Also, if you've already purchased jackets and vests for your wardrobe, you can definitely pair up your LBD with a denim jacket and rock any party you go to!
Handbags are both, essential and trendy. A statement handbag can enhance your look a 100% as it shifts all the attention to itself. And one can never go wrong with a leather handbag of darker shades. A tote bag also looks perfect and gives you a funky, charming look. Depending on the time of the day, type of the occasion and the location, you can choose from a variety of handbags from online boutique collections.
Denim shorts:
There is no capsule wardrobe in the world that does not include denim shorts. Denim shorts are an essential and evergreen part of today's fashion and rightly so. They can be paired up and worn with hundreds of combinations, all different and versatile. 
They fit in at any party, any occasion, instantly. You just have to be careful with the top, but you don't ever have to worry about the shorts. You can combine the shorts with a basic tee, a boho top, bikini top and much more.
Graphic tees:
Graphic tees are an epic example of fashion on budget. They look cool with a blazer, with a colorful striped skirt, with denim shorts, with jeans, with pyjamas-a graphic tee goes with any of the above. Depending on your style and interest, there are millions of graphic tee designs out there!
A capsule wardrobe is totally incomplete if it doesn't have comfortable footwear. Sneakers and sandals are the new stilettoes and we are here for them! The sneaker era isn't ever going away. Printed and white sneakers have been in trend for so long that they could be worn to almost any event. There are incidents of brides wearing fancy sneakers to their weddings! What more can we ask for?
Rompers and jumpsuits:
We don't even need to explain what a timeless trend rompers and jumpsuits have been. Every now and then, the fashion industry returns to this amazing piece of clothing with several modifications according to the ongoing fashion trends.  They save your time, money and efforts, and make you look as stylish as you ever could! Have a look at the amazing Jenny Jumpsuit to know how an elegant jumpsuit can enhance your look!
Conclusion:
If you are overwhelmed by the unending chaos of selecting outfits or just wondering how dressing with less and simple can work, capsule wardrobe is for you. Pick the most essential clothing and accessories from trendy online boutiques, and build your capsule wardrobe from scratch!