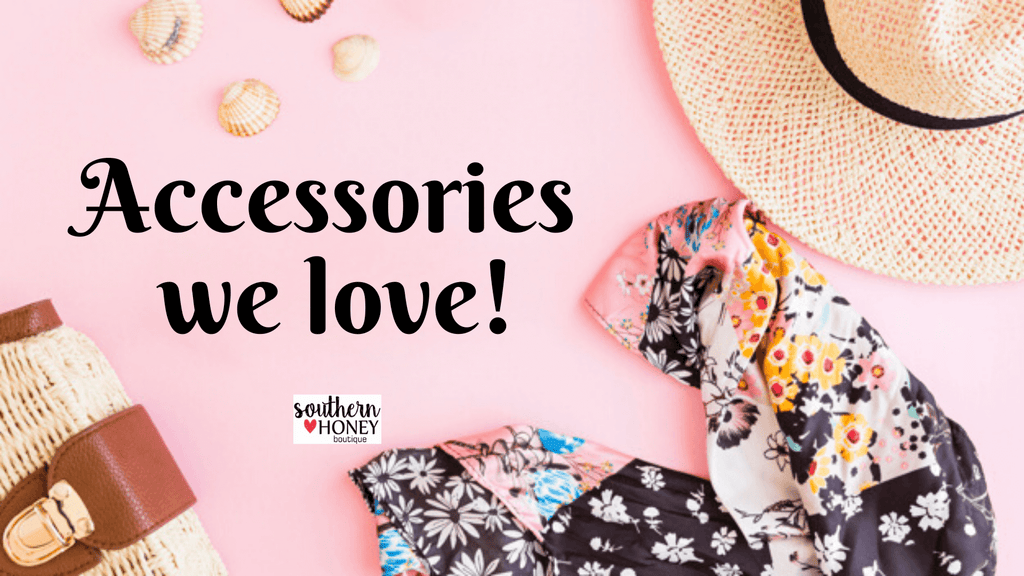 Accessories we love!
Women's clothing and apparel do matter a lot when it comes to fashion. The type of clothes you put on, the footwear and accessories have to be just perfect for a woman! When we do look towards attire, certain accessories like jewelry, purses, bags, etc. are important.
So, why just miss out on the extra marks for your fashion? Get the wide range of the most utopian accessories you need, to glorify your grace and spread that lovely charm.
Southern Honey Boutique has got brand-new and trendy accessories to add that those extra marks on your excellent dresses!
1. Headress Checkbook- Dark Hide
Get all of your things in one place and carry them flawlessly! With the classic design and versatile pockets available, you have enough space to keep all of your stuff. Carry it elegantly with your attire and stand-out in the crowd around you! Also, available in Light Hide version if that's your type.
2. Thunderbird Checkbook- Leopard
Been a fan of animal prints and haven't yet found the perfect checkbook to match your wilderness? This leopard printed checkbook is the right choice for you! It's a good-to-go match with your attire and is trendy too!
3. The Hazal Purse- Tan Hide
One of the most authentic and divine pieces to add to your attire! The studded detailed strap and classy outlook of the purse is just an exemplary combination. With the tan shade, it just becomes more impressive.
4. The Rosie Red Aztec Purse
Carry the aesthetic look and delights with this purse. Whether it be a casual meet or a special occasion, this one is your ultimate choice for all. Available in red and grey shade, the Aztec Purse is a winsome thing to flaunt off!
5. The Jane Leather Purse Black
As they say black never goes out of style, this purse justifies it. With the flexibility provided, you can carry it as a clutch or just fling it around your shoulders. The leather material and the simple, yet sophisticated design just make it a surreal piece!
6. The Viljandi Leather Purse
This leather one has got exquisite floral patterns which make it glamorous and classic at the same time! With its glamorous vibes, it makes a ravishing accessory to match with any of your favorite attire. Whether you're going for a party, wedding or a meeting, this one never goes out-of-fashion.
7. Ostrich Clutch- Multiple Colors
Add a little heavenly touch to your attire by carrying this graceful clutch! With adjustable straps and 3 zipper compartments, it is just idyllic to help you carry the stuff you need. Choose from the available camel and khaki shades now for the ultimate elegance!
In these winters, you'll need that comfiness and something which will provide you with all the warmth. Southern Honey Boutique has got a plethora of winsome and cozy beanies and caps to add to your beauty! Cold or warm weather -  a beanie is suitable for all. Hats, once a necessity for women's clothing has now returned has a must-have accessory!
8. The Everest Beanie
A lustrous and appealing beanie with the most authentic design. With a wide variety of colors available- burgundy, black, olive and coffee get the perfect one to lit up your wintry look.
9. The Wanderlust Beanie
Knitted with the utmost care, this beanie is the most stylish and adorable one. Style it up with your favorite fur coat and you're ready for the frostbitten winter season!
10. The Double Dutch Beanie
The enchanting knitting work and those adorable pom-poms on the top of it make this one irresistible to wear! Brace it up with your favorite sweater or put it on with your jacket for a glossy look. With the light and bright options available in shades, choose the right one for you!
11. Out N' About Ponytail Headband
The intricate knitted patterns and the sheeny look is a surreal combination! This Ombre Ribbed Flecked Ponytail Headband is a must-have accessory. Choose from the classic shades available now to add that elegance with your woolen outfits.
Well, these days clothing isn't everything and several other little additions to your attire are a matter of concern. So, why to fall back? Upraise your fashion sense with the classy and fantastic keychains from Southern Honey Boutique.
12. O Ring Keychain-Metal
With the multicolor tiny rubber inserts in the metal ring, this O-ring keychain is just an endearing piece of art. Hook it up with your other accessories for a pretty-pretty combo together!
13. O Ring Keychain- Snakeskin
The fauna prints having snakeskin outlook and are much trendy these days. Brace up your style and make them an extension to your accessories now!
So, why miss out on the wide range of accessories to match with your attire and uplift your fancy look? You're just one click away from getting the perfect set of accessories to complete your picturesque look. Buy these accessories now for the right dose of comfort, confidence, and style you need, cause women's clothing is incomplete without it!