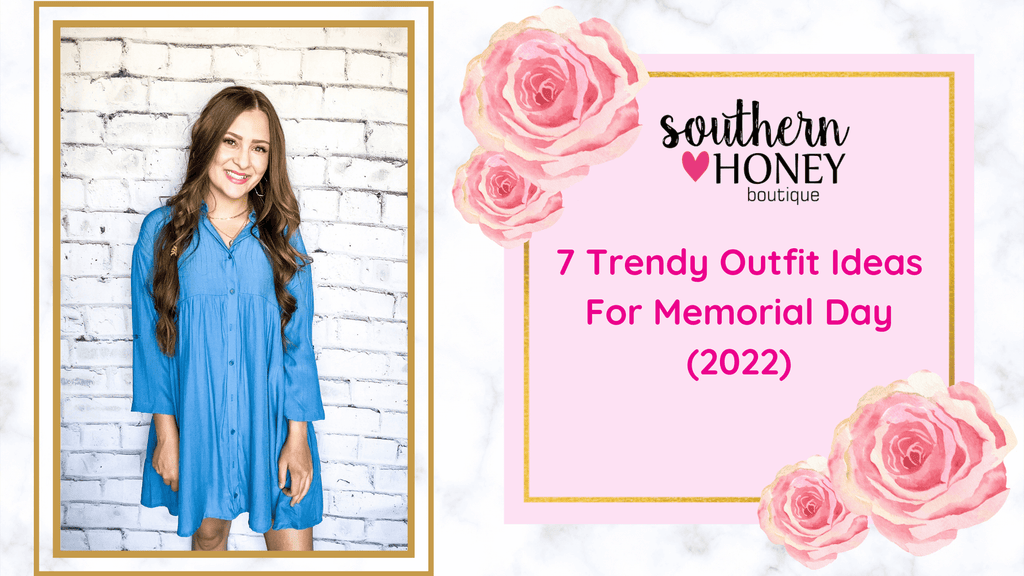 7 Trendy Outfit Ideas For Memorial Day (2022)
We know how agonizing the no-holiday stretch after winter can be, but breathe a sigh of relief now because Memorial Day weekend will be here before you know it. If you are anything like us, you will want to be out in nature, spending time with your friends and family. Hiking, heading to the lake, barbecuing, paddle boarding, and long-awaited relaxation are just some of the things we are excitedly looking forward to. So, before Memorial Day Weekend comes, update your wardrobe with the latest clothes that'll be perfect for the holiday and even the whole summer! You can purchase adorable and trendy clothing from Southern Honey Boutique. Trade your sweats and oversized T-shirts for sundresses and crop tops, and be more than ready to celebrate the start of this incredible season!
If you are searching for boutiques in Hobbs, NM with a wide range of Memorial Day and summer staples, then Southern Honey can be your new go-to! Check out some of these fabulous outfit ideas curated by our style experts!
Seven Memorial Day & Summer Outfit Ideas
Check out these gorgeous outfits that deserve a spot in your summer wardrobe.
1.  Trendy Off Shoulder Tops & Dresses
Off-the-shoulder tops and dresses are wardrobe staples of the season. If you are planning for a boat or incredible yacht ride this Memorial Day Weekend, an off-the-shoulder top will be an effortlessly chic option. Complete the look with a cute midi skirt, oversized sunglasses, and a sun hat. If you are looking for more trendy Women's Tops, visit Southern Honey and explore the summer collection. We are sure you won't be disappointed!
2. Swanky Printed Dresses
Going for a dressier occasion? Opt for a printed dress paired with sleek boots. This dress is the perfect fit for the upcoming holiday. It will also help you rock the beginning of your summer! Southern Honey's Taryn Dress paired with the Selia Booties will make you stand out from the crowd in a stunning manner. This classic, effortless, and versatile look can take you from the beach to a fine dining place in minutes! You can add trendy and bright accessories to your dress to bring out those colors in the pattern. To find more such chic and fancy women's dresses online, head to Southern Honey's boutique in Hobbs, NM, or Stephenville, TX. 
3. Summer Shorts
A summer without a pair of cute denim shorts is hot, sticky, and uncomfortable. While the classic t-shirt and shorts combination is irreplaceable, you can opt to dress it up with a jacket and sneakers. You can also trade the t-shirt for a white button-up shirt or even a bralette if you have a pool party or beach vacation planned for the summer. Wear our Margo shorts with our bestseller, the desert sage top, to complete the summer look you have always wanted. We know how difficult it can be to find summer staple shorts, hence why we have a wide variety of our favorite women's designer jeans and shorts at our store. Make your summer fit look great while still making you feel comfortable! 
4. Basic White Sneakers
Are you also planning to spend your weekend outdoors? Then, there is no better choice than a pair of white sneakers to wear with your summer outfit. They will look good on almost every one of your ensembles and give you those extra style points! You can consider changing up your outfit and going that extra mile by wearing a mod cap or a headscarf, with a classic woven bag. Look street-style ready with our amazing pair of white sneakers. Still not convinced? No biggie! You can find more women's designer shoes on our website and choose the one that nails your holiday style! 
5. Go All-In On Accessories
Pump up your adorable Memorial Day outfit with quirky and funky accessories. You can top off your look with a large sun hat, lace-up sandals, and a mini shoulder bag, but you know what? That's not enough, ladies! You need to wear jewelry with your gorgeous outfit to show off and stand out from the crowd. Amp up your basic look by wearing our eye-catching Ivory Turquoise Slab Stone Necklace, Into The Jungle Earrings, and some matching rings and bracelets. Southern Honey is a leading online boutique! You can browse through a variety of options on our website.
6. Pretty Rompers
A flowy and flirty romper is undoubtedly one of the best options for summer. Rompers are all-in-one outfits for anyone to dress up and down however they please. So, when life gives you a long holiday, make the most out of it with a bedazzled romper. Also, while we are at it, why don't you try pairing Southern Honey's Livy Romper with a matching pair of sneakers? Believe us! You will be the most stylish at this year's Memorial Day party!
Key Takeaways
So, whether you're having a BBQ in your backyard or playing volleyball at the beach with your friends, you will need a super cute outfit. We have curated this list of the best Memorial Day outfit ideas so that you and your friends can put together a look for almost any kind of celebration or outing that you might be planning. Take a break from those tedious workdays and enjoy this change of scenery with Southern Honey, the best clothing store in Hobbs, NM. 
Whether you are looking for trendy Women's Tops or Women's Designer Jeans, Southern Honey has something for everyone! And believe it or not, you are bound to find at least one outfit that's made just for you. Don't forget to have a look at the ideas for your next beach vacation outfits to look your absolute best!