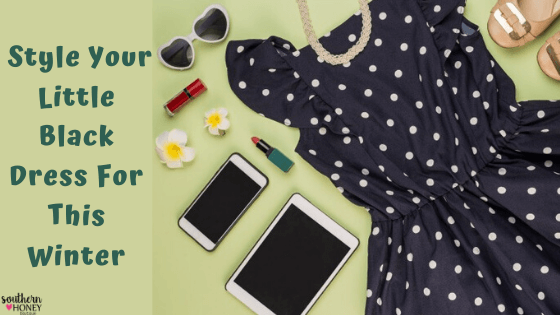 13 Ways To Style Your Little Black Dress For This Winter
Black is that irresistible sexy and glamourous colour in your wardrobe which you cannot do away with. Isn't it?  
It is the most sought after alternative when it comes to outfits for any type of occasion. Be it a casual date with your partner or an official meeting with your boss, black is the ultimate colour which can add a tinge of sophistication to your closet collection. 
Our Online Dress Boutiques has everything you need to look unique and elegant. Explore various ways in which you can beautify women's dresses without burning a big hole in your pocket!
1. Wear Your Little Black Dress With Turquoise Purse This Winter
Steal everyone's attention wherever you go by wearing this stunning beautiful white coloured necklace which will perfectly complement your sparkly black dress. Elevate your look with statement boots or high heels.
2. Style Your Dazzling Black Outfit With Vest This Winter
Wrap yourself in layers of cosiness by stylising your dazzling black dress in this sophisticated overcoat. Accessorize by wearing silver necklace and metallic earrings to look alluringly feminine.

3. Elevate Your Style With Sexy Boots This Winter
Showcase your real beauty by dressing glamorously from head to toe. Complete your look by wearing these party heels which are perfect blend of style and comfort. Showcase your style and confidence by adorning these beautiful pair of black footwear which will go perfectly with your knee length black dress.
4. Style Your Alluring Black Dress With Layered Cardigans This Winter
Experiment with net layered cardigan to add a suave element to your extravaganza look. Protect yourself from chilly winds of winter by trying out your black dress with bright red colour cardigan.
5. Showcase Your Beauty In Black Dress With Stylish Bracelet
Tantalize your partner by charming them with bead studded silver and golden bracelet. Loaded with fashion and elegance, this piece of accessory will make you stand out in the crowd when you hear its tinkling sound while dancing to the tunes of your favourite song with your partner.
6. Flaunt Your Alluring Black Dress With Earrings This Winter
Glisten in these pastel shades of pink and white which will go with your black coloured dress. Enchant your partner with this exquisite look by stylising yourself with contrasting purse or clutch with a heart shaped silver ring.
7. Wear Your Elegant Black Dress With Winter Cap
Showcase your feminine side by wearing a wool winter cap on your movie date with a sizzling black dress. Flaunt it with a red lip shade and smoky eye look to add a splash of colour to your look.
8. Style Your Sparkly Black Dress With Clutch
Fully functional and versatile to accommodate all your important documents and other essentials while adding colours to your personality. Silver colour will perfectly complement the black colour of your dress. Whether you are heading on a date or for your bestie's wedding, you cannot do away with this shimmering clutch which will give you the attention you have been yearning for long.
9. Wear Your Shimmery Black Dress With Keychain
Flaunt your style by choosing the right keychain according to your personality. Elevate your look by hanging them on your purse or using them with a pair of keys.
10. Wear Your Exquisite Black Dress With Stunning Jacket This Winter
Reveal your kinky side by wearing this enigmatic and luscious jacket which will go well with high heels and pearl earrings. Whether you wish to go for an evening stroll or a romantic date with your partner, this evergreen look won't betray your style.
11. Style Your Gorgeous Black Dress With Gorgeous Coat
Create a dazzling look for a night out with your partner by warming yourself in this cosy coat which will be suitable with your black dress. Sensual chokers, ethnic jewellery and chandelier earrings is what can stylise your look further.
12. Elevate Your Style In Black Outfit With Sneakers
Experiment with your look by trying sneakers with an elegant piece of black dress. Don't forget to wear a nude lip shade and subtle makeup to dress perfectly for a casual dinner evening with your special one.
13. Wrap Yourself In Style In Black Outfit With Heels
Team your classic outfit with women's heels to add glam to your sparkling black outfit. Whether you are planning to attend a formal meeting or go for a candle light dinner with your partner, black heels are ideal for any type of occasion.
With a multitude of options available, you are now in the right position to make up your mind to find what would suit your personality. Our Trendy Online Boutiques has everything you have waited for a long time. 
Be it black boots, leggings, or trendy rompers, Southern Boutique is one stop destination for your fashion needs. So hurry, make the most of it this season!