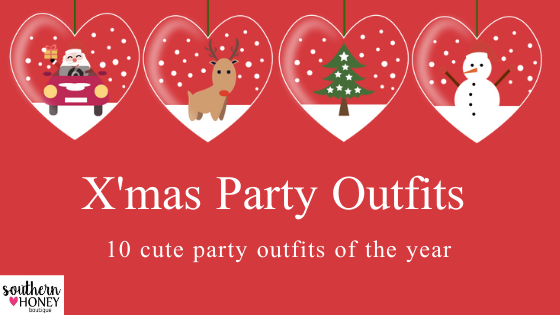 10 Cute Outfits For the Upcoming X'Mas Party
Got Christmas parties all planned up but can't decide what to wear?
Well, it is time to celebrate the festivities with gusto and enthusiasm. Southern Honey, the trendy online boutique offers a great collection of winter apparel at affordable prices.
Enhance your Christmas look with our elegant range of apparel to look stylish and fashionable at parties, casual outings, parties or even holidays.
So, what are you waiting for? This is all you need to satiate your hunger for irresistible trendy outfits.
The Lexi Knit Sweater
Live the spirit of Christmas with this versatile piece of sweater which is ideal for family occasions and casual day outings with your partner. Its long sleeve style and impeccable round neck design allows you to enjoy your special day without having to worry about shivering in the cold.
The Cosmo Sweater
Luxuriously infused, this warm women's sweater made up of wool is ideal for chilly winter seasons. Its styling pattern and colour combination makes it alluring for office parties. Slip into your denim jeans to get the chic look you might be yearning for.
The Lilo Sweater
Offering warmth and comfort, this exclusive piece of sweater stands out in the crowd with its versatility of colours. Exuding perfect combination of form and function, the loose baggy fit adds to its elegant and fashionable style.
Wrap yourself in multitude shades of colours to look unique this Christmas. Trendy tank tops can make you look fashionable and sophisticated at the same time. This lightweight design top ensures ease of movement and allows you to walk in elegance and comfort.
Its round neck design acts works as a natural temperature regulator sweater and is necessary to enjoy the colder months in warmth and style. This fancy dress for women is heavily knitted adds to its functional finish and ultra-cozy appeal.
If you are looking for a jacket to complement your light coloured top, then you cannot miss this outfit.Women's fashion jackets are evergreen when it comes to dressing for special occasions.  Pair it well with classy boots and dark coloured denim jeans. Don't forget to put a cute beanie to elevate that Christmas look!
Can't Touch This Overall Dress
Leopard print trendy dresses can never go out of style. Accessorize yourself with black purse and goggles to make everything go crazy with your flirty look.  Roll up with black heels and black blazer to add a splash of colours to your overall personality.
Chase Me Cardigan
Offering multi functional mix of statement-making looks, this trendy christmas cardigan for women is an answer to all festive styling questions. Accentuate your look without losing touch with the prerequisites of winter clothing- comfort and warmth! It's time to stay ahead in the festive fashion curve, keeping the comfort intact!
Long Beige Bell Sleeve Blazer
The baggy style of this blazer combines style and functionality to uplift the charm of the holiday season. Perfect to make yourself look adorable while you can feel assured about impeccable protection against the winter chill. Pair up with stylish boots and bold red lipstick to stand out among your family and friends.
Mesmerize your loved ones with this coveted piece this festive season. Set the stage on fire as you groove to the tunes of your favorite songs with your partner with a charming smile on your face. Drive your special one crazy with your extravaganza look and don't forget to wink as you look in their eyes.
With an amazing range of options at your disposal, making a choice shouldn't be much of a hassle. If you are still in two minds, all you need to do is to experiment with some of the cool looking outfits before you can pick the best one for your special occasion. We bet, you won't be disappointed with our trendy online boutique curated range. Shine bright this season and be ready to rock and roll in funky winter outfits.