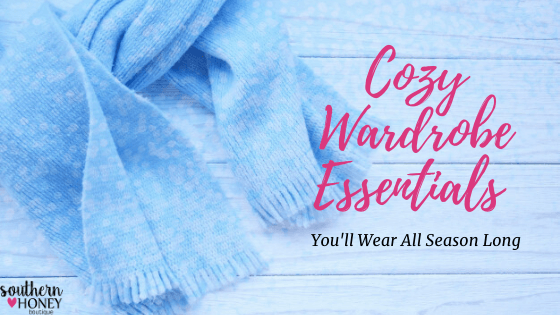 10+ Cozy Wardrobe Essentials You'll Wear All Season Long
Has your vibrant and vivacious fashion statement got frozen in the winter season? As the winter is here already, have you braced yourself for it? Nothing can be more satiating than finding a plethora of cozy, alluring and satisfying clothing.
Fashion should never walk out of style while maintaining the coziness in these frostbitten winters. Your attire does make a statement and Southern Clothing Boutiques has got the exemplary range of fabricated clothing to keep the warmth and glory of your looks together! 
1. The Best Turtle Neck Sweater:
Charm up the winters and spread the lively aura with the simple but sophisticated turtleneck sweater. Enhance your look and take your outfits to another level with the red and black options available in shades.
Get the furry and homey feel now made from this awesome combination of acrylic and polyester. If you're looking for something knitted with the utmost care and which maintains your fashion sense too, then you shouldn't be missing out on this one.
3. The Rainy Sweater:
Never go out of fashion with the eye-popping design! Accentuate your look with this comfy sweater as it is a ready-to-go with any of your attires from the wardrobe! The variety of colors used creatively on a plain cream background makes it worth your wardrobe.
4. Wild Days Sweater:
In love with the animal prints? This sweater with varied prints of the wild outshines you and is the utmost warmth-provider. Fabulous, ravishing and ultra-feminine is all this one has got for you!
5. The Charlotte Kimono:
Ebullient floral prints are the epitome of elegance and style when it comes to showcasing femininity. The polyester kimono complements the best with any of your clothing this winter. So, why let your wardrobe get deprived of the amazing piece?
6. The Natalie Neon Print Kimono:
The vivid neon shades on this kimono make it a rocking piece to team up with your jeans, leggings, skirts, and shorts. Wear the sassy look now and spread that divine aura of yours! The peppy combination of all neon shades makes it an exceptional choice to own.
7. Laced In Grace Kimono:
Add a luxurious touch to your attire with this transparent long kimono. The little patches of embroidery designs are a perfect blend with the black, blue and olive shades. Get it into your wardrobe now for those drop-dead gorgeous looks and a cheerful winter!
Entice the eyes and have the hearts fall out for you in this trendy and glistening piece. The sequin bell sleeves are just fantastic and undeniably fits in with any style of attire you're planning on a wintry eve!
9. Just In Time Pullover:
Looking for something simple, classic and a little pop style addition to your wardrobe? Get the sublimely fabricated pullover now and pair it with any bottoms to have a trendy look and protection from the chilled winters as well.
10. Feeling Free Sweater:
Grab the truly utopian and snuggly wear for your winters now. With loosen up sleeves, long length, and glamourous prints, it undoubtedly adds charisma to your beauty! Upraise your appearance by experimenting with your favorite bottoms and dazzle the spectators around.
For your trendy and chic winter-look to have a detailed closing, we have an assorted range of boots to club them up with. Check out these snazzy boots and try them now!
Look like a diva with all of that wildness like a leopard! With this elegant pair of sandals, stay carefree in the frosty snows while maintaining haute couture at the same time!
* The Timmi Cream Sneaker Wedge:
Complete your stylistic outlook by getting into these heavenly, yet modest boots. The cream color is an unparalleled match to go with any of your woolens. The zipper encloses the comfort of your foot firmly.
* The Cheyenne Taupe Booties:
These coffee-shaded boots give you an entirely flawless combination of the classics, comfort, and elegance. If you love simple yet fashionable footwear, then have this one right in your wardrobe now!
What else could be better than having the comfortable, exquisite and trendy essentials from Southern Clothing Boutiques jumping right into your wardrobe? With a plethora of options available, get ready to heat up your winters and that of your loved ones by uplifting the beauty and going all comfy in those sweaters, kimonos, sweatshirts, boots! So, why wait to hesitate and waste time thinking when you can buy any of those items right now and fit into your wardrobe. Shop now and elevate the fashion in your wardrobe!